Career opportunities are open to the programming and design industry
Following the success of the series of summer events Career and Experience in Information Technology (IT) and Design industries in May, June and July, VTC Academy HCM recently organized Career and Experience in Information Technology (IT) and Design industries 2019 at SCPC, 30-32 Yersin, District 1 on August 4, 2019. The event attracted a lot of high school students to participate in thanks to extremely interesting and useful topics. Join VTC Academy to review the fascinating content at this event.
Practical applications of A.I. in daily life
As one of the most anticipated guest speakers at this event, Mr. Ngo Quoc Hung – Director of A.I. Department at AINovation – shared with young people about the applications extremely close to human life that A.I. has been bringing, helping many activities which are time-consuming become simple, easy and quick, typically for photo editing, A.I. can help restore color images at a glance, fix broken images, improve image quality with low quality images …
A.I. is also used in medicine with the ability to diagnose diseases based on X-ray images and impact on the process of artificial insemination to help a higher success rate.
Besides, A.I. It has also been applied to vehicles and houses such as self-driving cars, smarthome … It can be affirmed that A.I technology is a growing trend in human life through extremely useful applications, which saves a lot of time, effort and cost in many activities.
Programming and design industries: career opportunities are more open than ever
Participating in the discussion at the event, Mr. To Dinh Hieu – Academic Manager of VTC Academy said that with the serious shortage of IT and design human resources, job opportunities for two branches is becoming extremely open.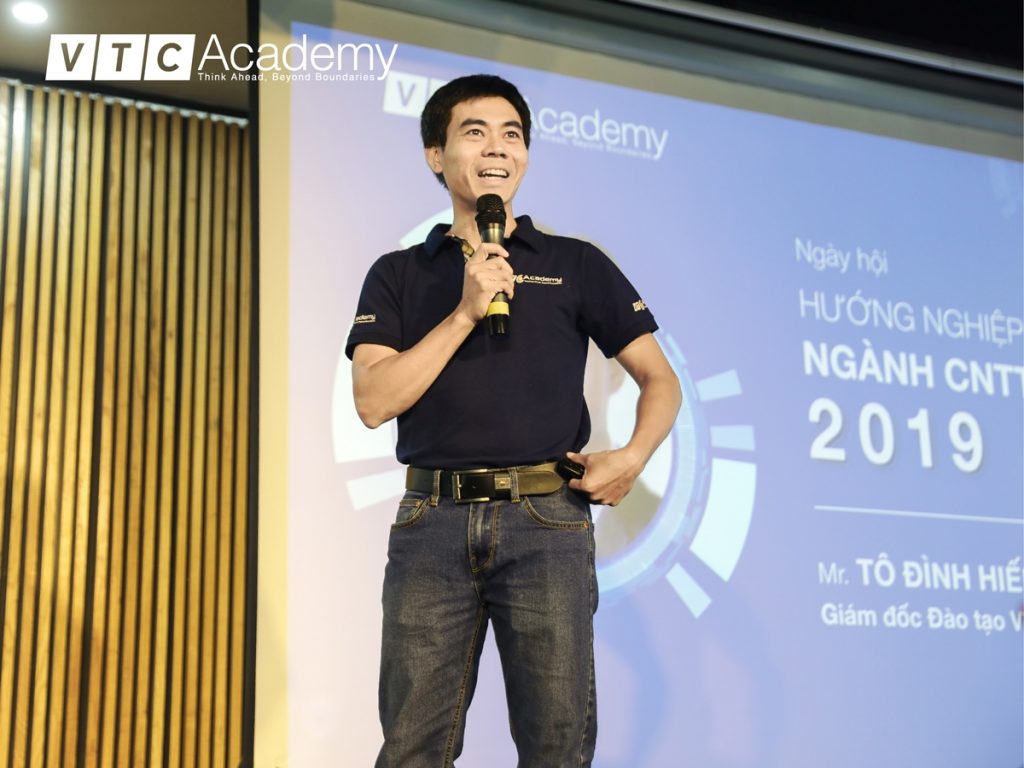 Mr. To Dinh Hieu, Academic Manager of VTC Academy shared about job opportunities with the programming and design sector.
For example, if you study game development, you can become a 2D Game developer with cocos2d-x, Game Unity 3D developer, and multi-player Game developer, expert in developing Artificial Intelligence for Game, …; If you study mobile application programming, you can become an Android application development specialist, iOS application developer, multi-platform mobile application developer, Back-End developer for mobile applications, …; If you pursue full-stack web programming, you can become an enterprise webmaster, a front-end and back-end web developer, a full-stack web developer, … By becoming a programmer in large technology enterprises, multinational companies, you can also take on the role of software testing or start your own business with your own ideas.
Similar to programming industry, digital content industry, in particular 3D design is also demanding huge human resources and extremely attractive job opportunities. Specifically, with digital graphic design, students can become ad designers, web designers, … ; If you learn 3D modeling and 3D animation, you can become 3D animators or animators for movies, games, advertising, production directors, …; With the movie industry (VFX), you can pursue your passion by working as a movie technician, game technician, advertising editor, film editor, image manager, art director, …
The reason why VTC Academy can "conquer" the design-programming community
Explain why VTC Academy has always been chosen by the community of IT and design enthusiasts – nearly a decade of development of the Academy, Mr. Hoang Viet Tung – Chairman of VTC Academy shared, the quality of training is the first criterion of VTC Academy to achieve the goal of becoming the leading IT and digital content training school in Southeast Asia.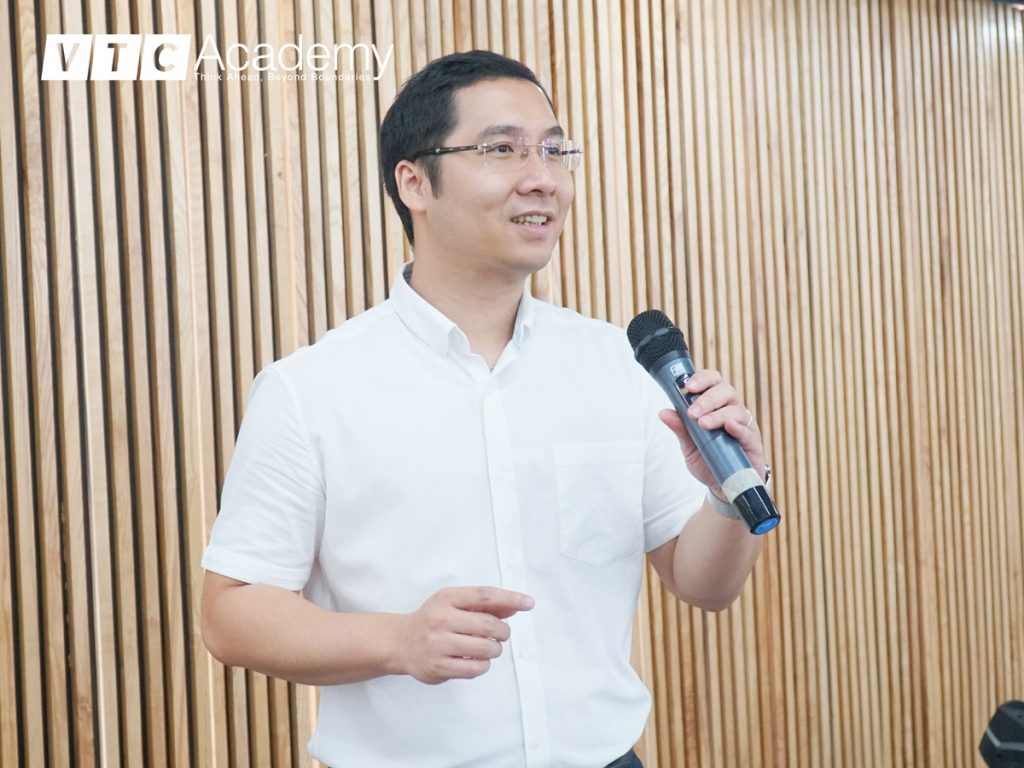 Mr. Hoang Viet Tung, Chairman of VTC Academy, affirmed that VTC Academy's goal is to become the leading IT and digital content training school in Southeast Asia.
In that spirit, the Academy's curriculum is consulted, built and quality controlled in accordance with the actual development of the industry by professors and doctors from the TOP 10 universities of the world. Businesses also take part in training directly because technology and society are changing rapidly, changing – quickly adapting becomes important and to do that, training program needs to be closely followed by the support of businesses themselves – the place to receive the "output" of training.
Thanks to this right development orientation, VTC Academy regularly receives the commitment to recruit directly from enterprises and employment agencies. Currently, there are more than 50 businesses are direct recruitment partners of VTC Academy, so the students of the school are completely assured of job opportunities after graduation.
What advice for young people to choose a career – choose a school?
Understanding the concerns of many young people with the question "Should I choose a career with passion or follow a degree?", Mr. Hoang Viet Tung affirmed, at the age of 18-25, young people have the right to experiment, do what you like, don't let the old "fear of false" thoughts falter. Moreover, even at any age, passion and ideals are always worthy goals to pursue. If you "follow" passion with all your efforts, success and career will "chase" us. It is important to set precise goals and step by step conquer those goals.
Let's see some pictures of the event: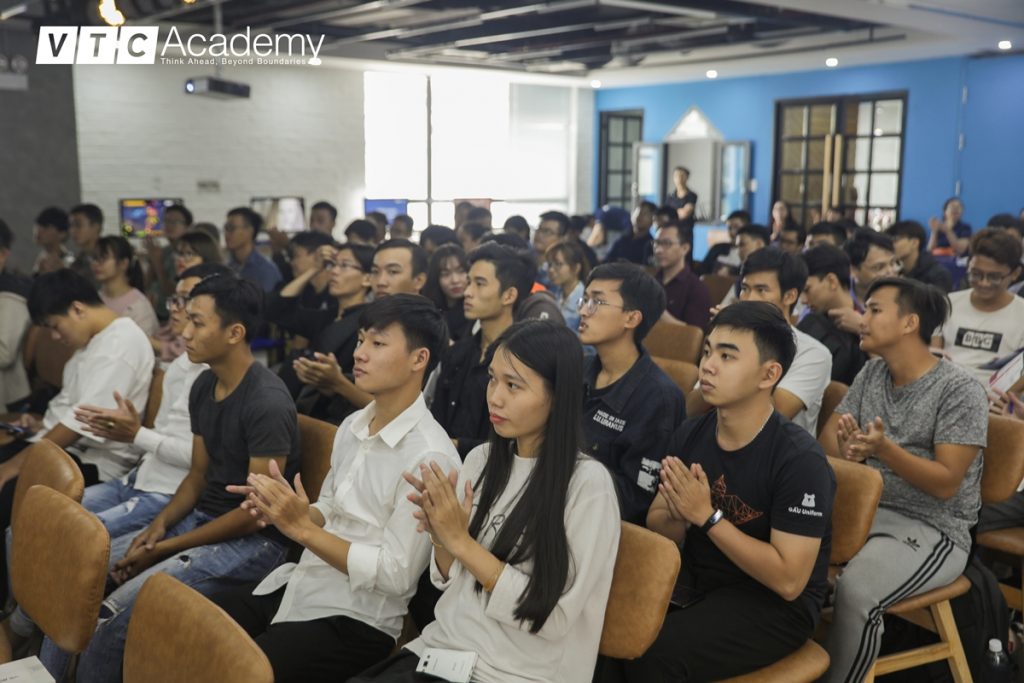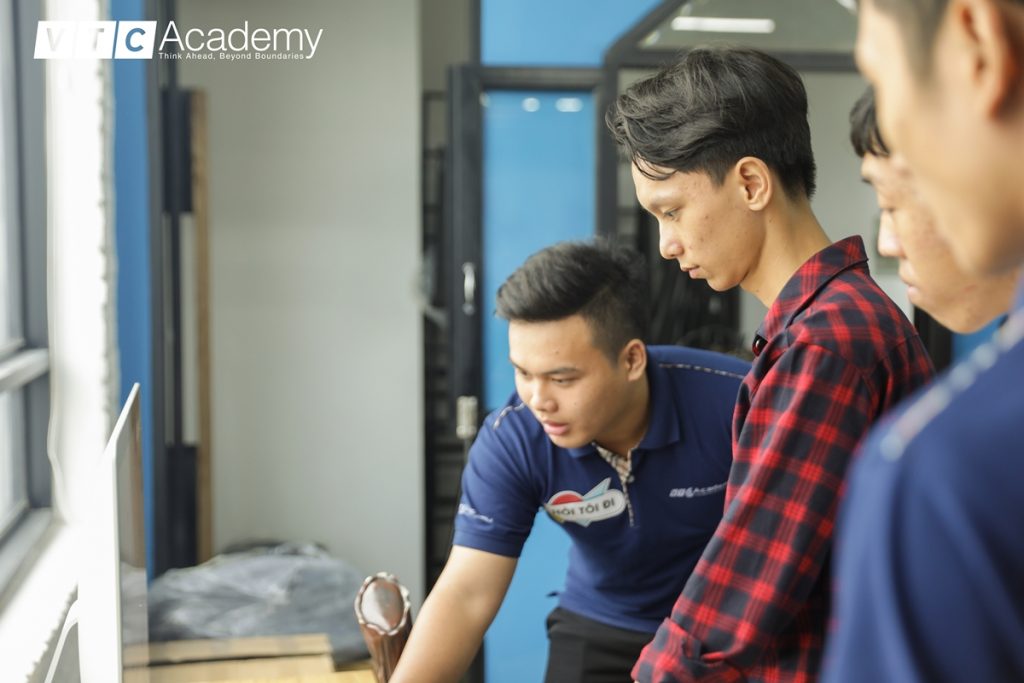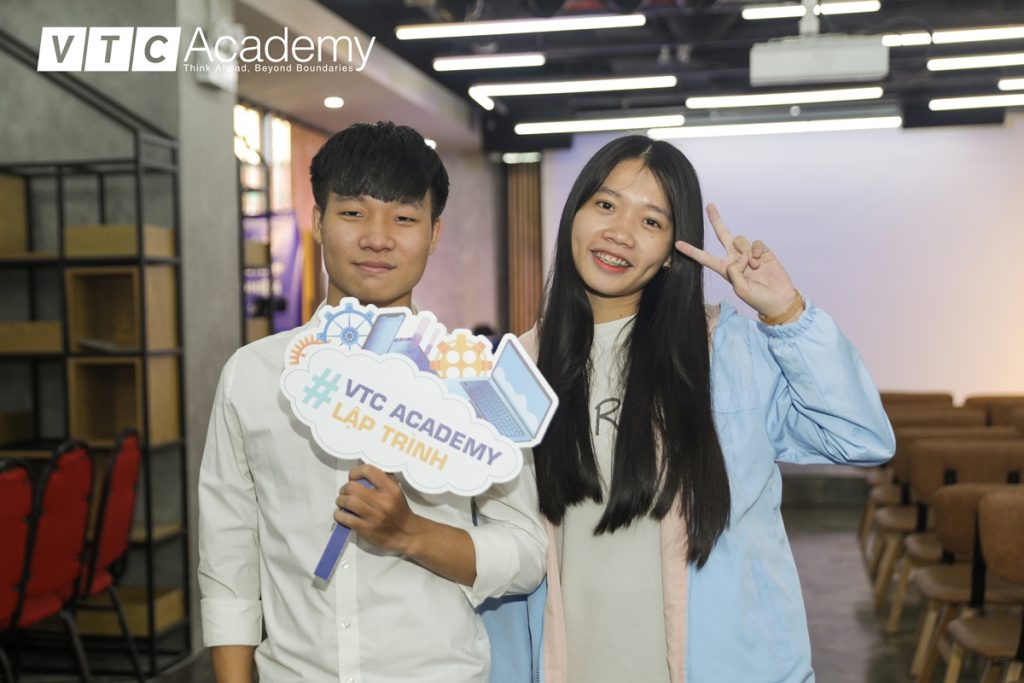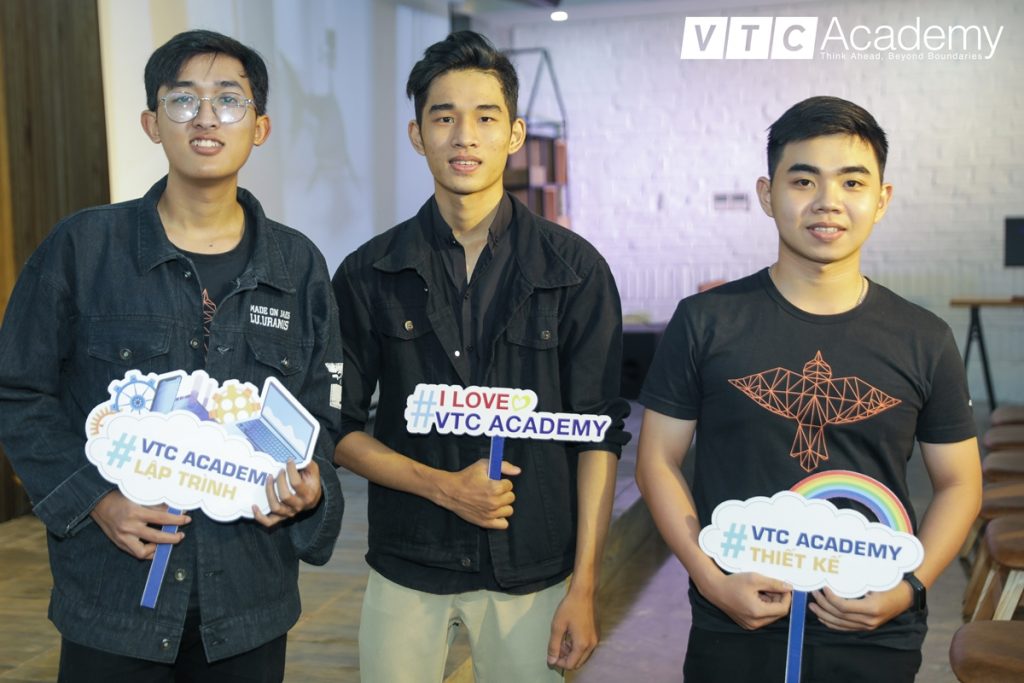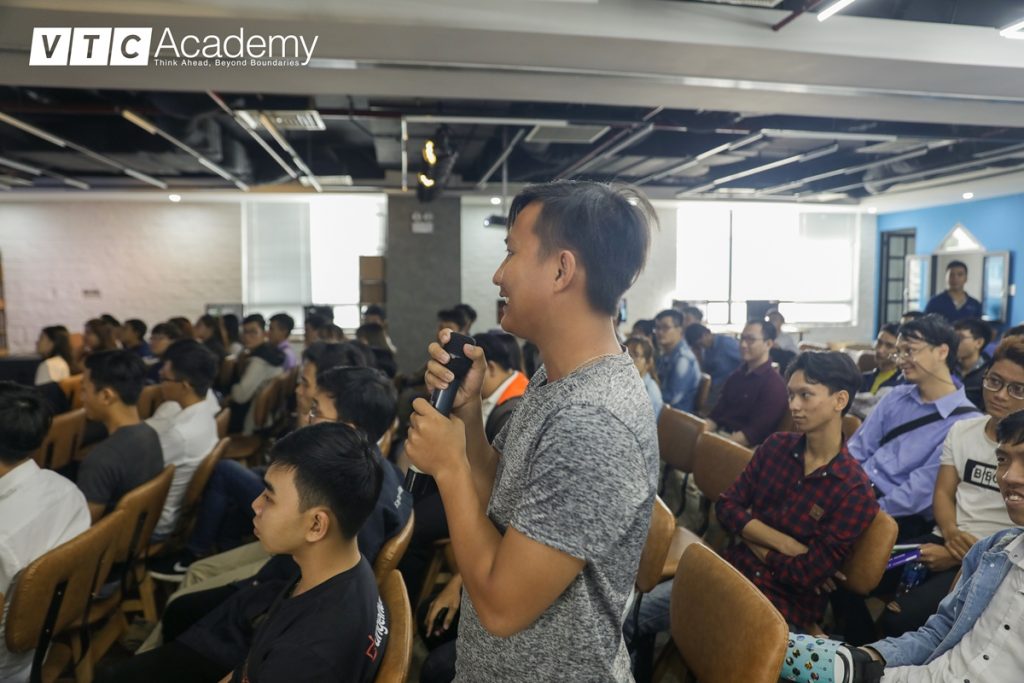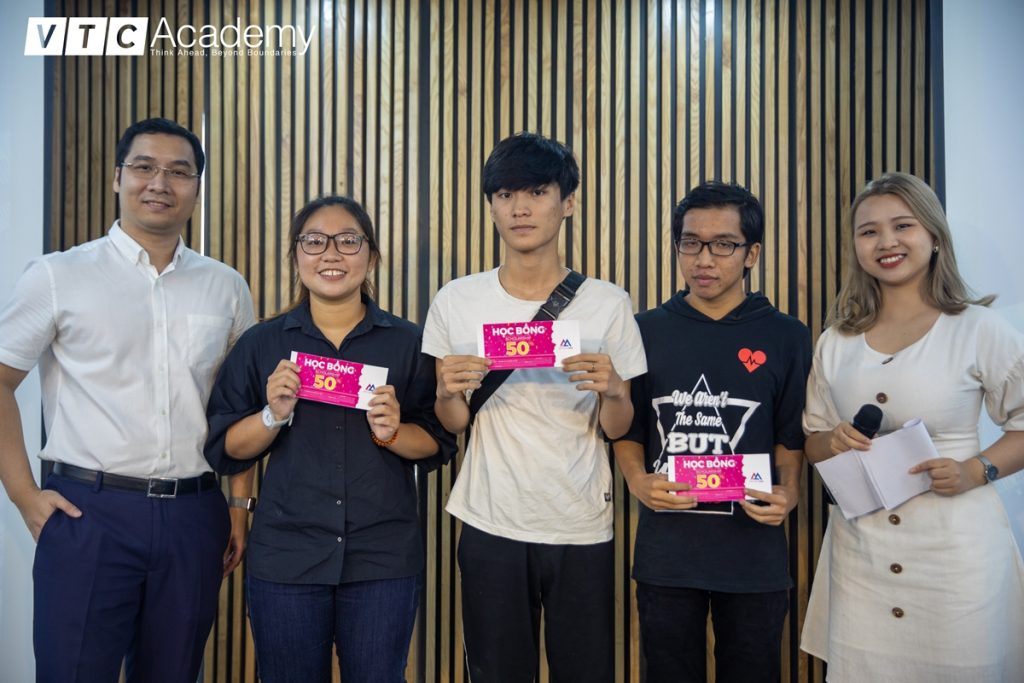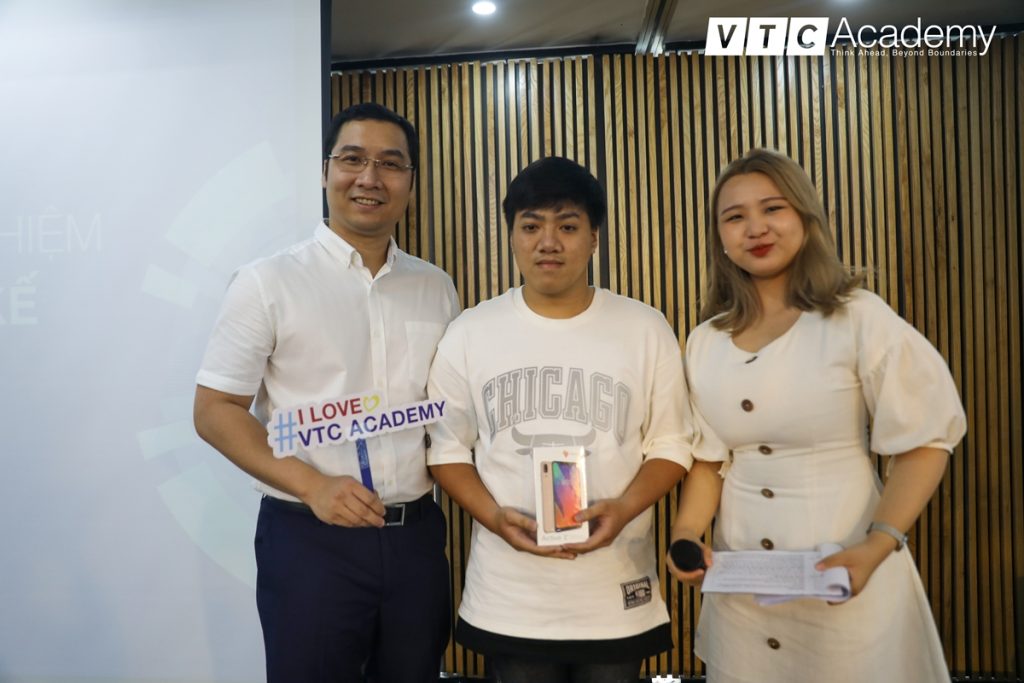 The lucky winners in the lucky draw with valuable gifts such as Vsmart Active 1 plus phone, Sony WH-CH500 headphone, 50% English AMA discount voucher, …