Bắt đầu
Kết thúc
Địa điểm
VTC Academy, 18 Tam Trinh, Hai Bà Trưng                
Xem bản đồ
The seminar "CG Filmmaking: From concept to production" held on November 17, 2018 at VTC Hanoi, is a seminar for students and professionals in Design and Marketing desiring to broad knowledge and absorb many practical experiences from experts. The seminar was co-organized by VTC Hanoi and co-sponsors of Hanoi Computer, Tu Gia and Thunder Cloud …
In the entertainment industry, CG is the abbreviation for Computer Graphics. The application level of CG is extremely large, in addition to being used in video games, advertising design, industrial auxiliary design, personal art creation, architecture … and especially CG is applied the most in cinema.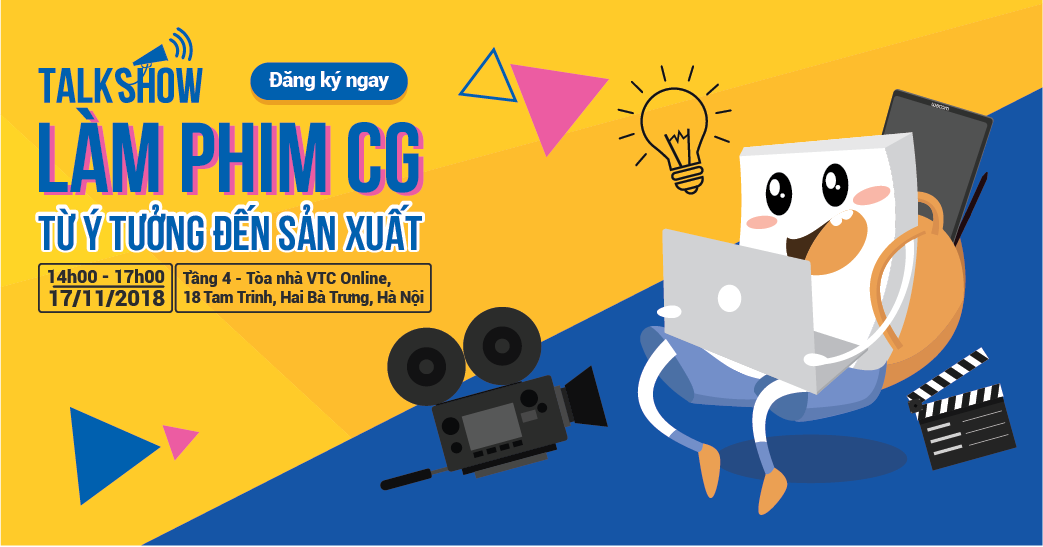 To help you better understand the CG industry in filmmaking, VTC Academy is honored to invite Top Professional Speakers from the University of Industrial Fine Arts and Corporate Entrepreneurs to the seminar. "Making CG movies – From concept to production" to share the knowledge and experience of making a profession:
Mr. Duong Van Diep – Founder & Art Director at Dsculpt Studio, one of the people with many years of experience and enthusiasm working in the field of Film Making and 3D Design in Vietnam will share their knowledge about 3D Modeling – Shaping Characters in film making technology.
Mr. Pham Tung Quan – Freelance Concept Artist, who has experience in producing famous Chinese and American films, will participate in the seminar and share knowledge about Concept Art – the soul of a movie.
Mr. Hoang Viet Hung – Leader of Sparta VFX, with 8 years of experience in the special effects image processing industry, he will introduce VFX technology – cinematographic techniques.
Mr. Nguyen Trung Dung – Art Director at Dsculpt Studio, will share the famous films in Vietnam that he used to work on special effects such as: "Dealing with Soul" directed by Ham Tran; "Tam Cam – Untold Story" film directed by Ngo Thanh Van; …
Content of the seminar:
🔸General overview of the current CG industry
🔸Listen to the views and opinions of the speakers about the finishing process of film production from 2D Concept, Modeling and VFX
🔸Share the actual project of the speakers
🔸Direction for career development roadmap
🔸Career opportunities and skills required in each position
🔸Technological Experiences ̣̣ (VR, Wacom, Huion)
Who is the program for?
🔹Students in Design and Marketing aspire to expand their knowledge and gain practical experience from experts.
🔹Workers want to update their knowledge to apply in daily work.
🔹Young high school students want to learn about 2D design industry, film production….
🔹In particular, the Designer intends to consult experts about the products that have been implemented.
CHI TIẾT THÊM VỀ SỰ KIỆN