//php _e('BAN TỔ CHỨC CUỘC THI','cactusthemes') ?>
//php _e('Học viện Công nghệ và Nội dung số VTC - VTC Academy','cactusthemes') ?>
Bắt đầu
August 17, 2019
Kết thúc
August 17, 2019
Địa điểm
18 Tam Trinh, P. Minh Khai, Q. Hai Bà Trưng, Hà Nội                
Xem bản đồ
VTC Academy Technology and Career Day, called VTC Academy Career Expo 2019, will take place on August 17, 2019 at VTC Academy Hanoi with the message "Technology brings you to the future". If you have a passion for technology, please take time to VTC Academy to discover the most special things in this event.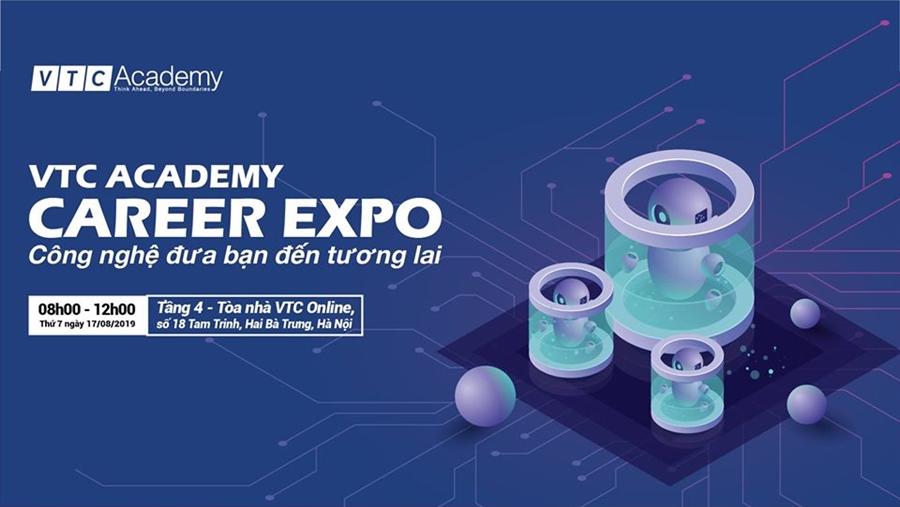 The gathering of a series of famous technology and headhunter enterprises
This Career Expo festival of VTC Academy attracts many famous enterprises in the field of technology and also enterprises specializing in recruiting and searching for talent. These are not unfamiliar names in this field such as Glass Egg, Digital Works, Bombus VN, Gameloft, Thunder Cloud Studio, N&V Bridge, FastGo, Top CV, Hivelab Vina, …
Coming to VTC Academy's Career Expo 2019, enterprises will bring a lot of products and projects that have been done in the field of IT and design. Thereby, young people attending the event will gain a lot of valuable knowledge about their work practices in the future if they are pursuing the programming and design path. This is also an opportunity to learn about the size, mission and the way enterprises operate in the event.
On the business side, this is a great opportunity for employers to get closer to quality candidates, in the context that VTC Academy has always been considered the leading human resource in the IT and design industry in Vietnam in recent years. If you are still wondering whether "VTC Academy's commitment to recruiting students is a scam?", At this Career Expo, you will answer that question with your own feelings. VTC Academy is proud to bring not only knowledge, skills but also an open career path for all students through practical activities, typically this year's Career Expo.

A true festival for young people who are passionate about technology
If you think Career Expo 2019 is not attractive, you're wrong. This is a true fun occasion for young people who are passionate about technology because here you will be able to participate in a lot of experience activities related to this field such as leap motion games, the computer games, games on smartphones and VR headsets …
And yet, coming to this event is also an opportunity for you to win valuable gifts that are extremely attractive technology items. Not only that, young people also have fun with acoustic, beatbox, poping and dubstep performances.
Great preparation steps for the future and career
VTC Academy's training criteria have always been promoting practice in addition to updating the curriculum regularly to apply the latest tools and technologies. Career Expo 2019 is also an opportunity to honor the practice spirit of the Academy through activities that are both interesting and useful for students such as writing a CV when applying for a job, learning the process of building and developing projects, reinforce the necessary soft skills such as teamwork, leadership, organization, problem solving, etc.
In addition, young people also had the opportunity to talk directly with successful people in the field of programming and design with big enterprises representatives, thereby understanding the needs of the market in the present and the future. In the near future, which industries are "hottest" on the market, what employers want and need from candidates, on the other hand, also help you better understand your own desires, passions and abilities. It can be affirmed that Career Expo 2019 is an opportunity for students to apply for great workplaces after graduation.
See you on August 17 at VTC Academy's Career Expo!
CHI TIẾT THÊM VỀ SỰ KIỆN
Website