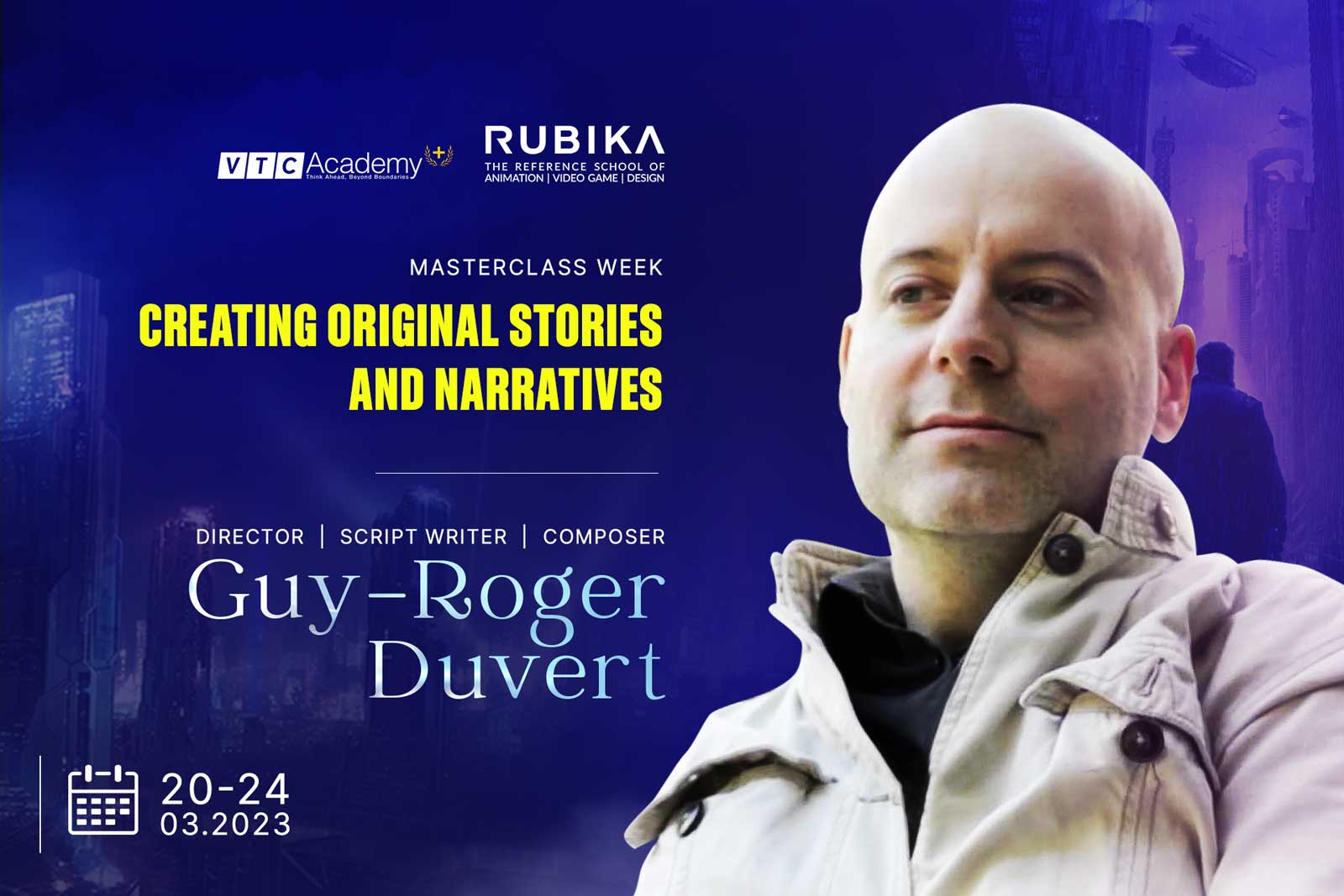 VIEW ALL EVENTS
Masterclass week: Creating original stories and narratives with French director Guy-Roger Duvert.
Monday – Friday ( March 20th – 24th, 2023 )
Purpose of the event
In order to introduce internationally recognized training programs and give young learners the opportunity to access cutting-edge teaching methods, the VTC Academy is presenting a series of specialist courses in conjunction with educational partner Rubika. International experts, mentors, and lecturers will participate in the program in addition to its in-depth curriculum to give students access to real-world expertise and understanding of a range of subjects.
VTC Academy has invited French director, composer, and scriptwriter Guy-Roger Duvert in an effort to give students access to internationally standardized specialized training programs in the field of 3D animation. Rubika International Design School is ranked No. 2 in the world for training in 3D animation and video games. At "Masterclass week: Creating original stories and narratives", Guy-Roger Duvert will present captivating storytelling approaches, the growth of international cinema, intriguing insights into the entertainment sector, and an analysis of the film and 3D Animation VFX market in Vietnam. Guy-Roger Duvert has a pianist background and has succeeded as a director and scriptwriter, winning several honors at the Cannes Film Festival. This occasion also symbolizes the expansion of the partnership between VTC Academy and Rubika as well as the ongoing standardization of the VTC Academy Plus global curriculum.
Students will receive a certificate after finishing the Master Class special training course.
Contents of the training program
Theory Module: Building a perfect plot based on Concept, Creation of Twists, Characters…
Practical Module: Create your own storyline
Target audience
"Masterclass week: Creating original stories and narratives" – Instructor Guy-Roger Duvert will dedicate his time exclusively to students enrolled in the VTC Academy Plus program in collaboration with Rubika.
Event scale
The event attracts 100 attendees.
Speakers & Guests
Mr. Guy-Roger Duvert
Director, Composer, and Scriptwriter
It will be updated after the event ends.