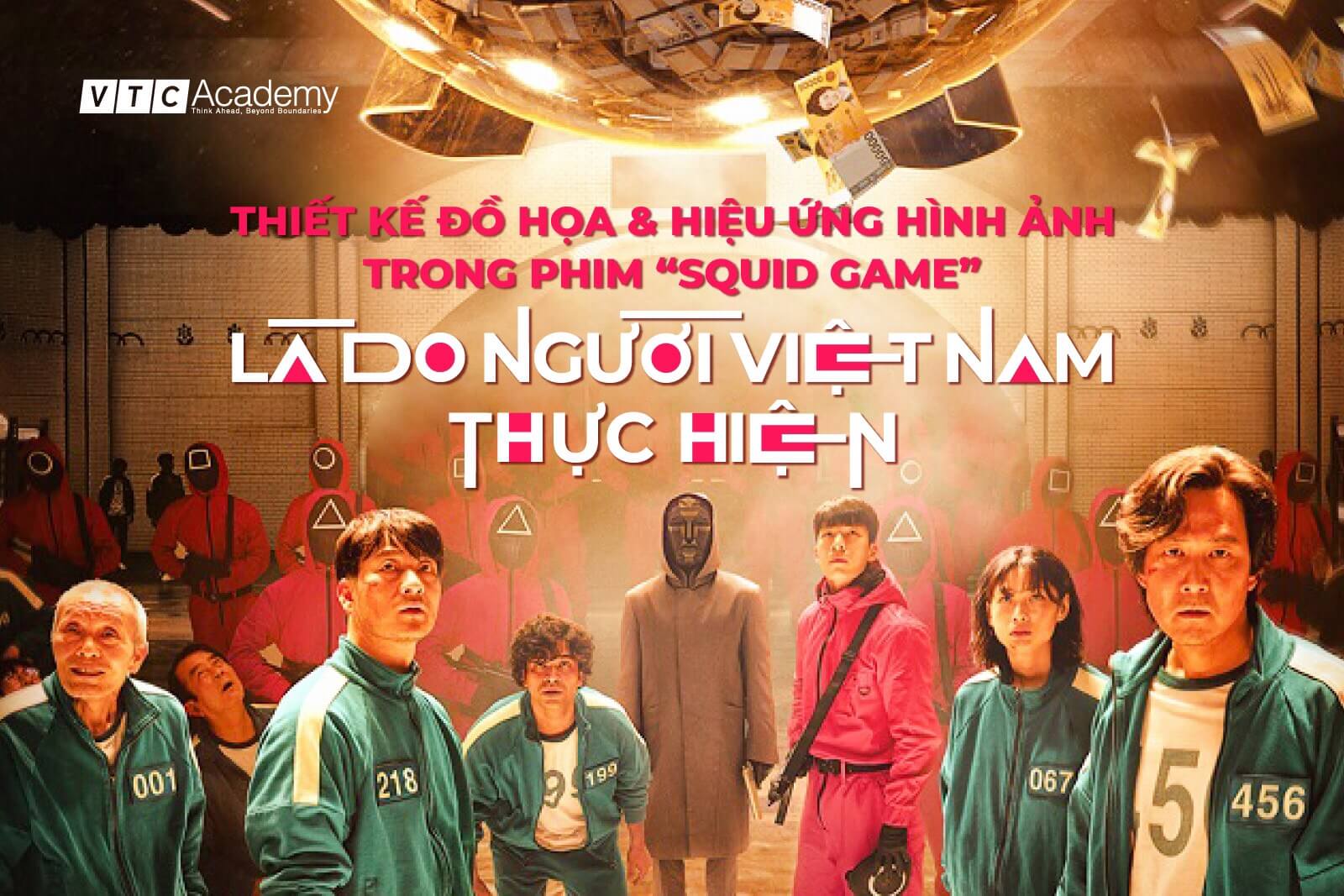 The blockbuster "Squid Game" made a strong impression thanks to the Vietnamese image creation team
Posted on 28/12/2021
The Korean movie "Squid Game" is a topic that attracts the attention of a large audience, media and film critics. However, few people know that behind this success is the contribution of a Vietnamese team.
The hit movie "Squid Game" with the participation of the Vietnamese image production team.
In the past few days, fans of the action, wits and survival movies must have heard of the famous Korean movie "Squid Game".
According to streaming analytics platform FlixPatro on September 23rd, 2021, "Squid Game" has surpassed hit movies like Sex Education Season 3 to take the lead in the Top 10 most watched global movies chart on the Netflix app.
The film caused a fever on Vietnam's portal and abroad partly because of its dramatic and humane content, but also because of the extremely impressive scenes combined with eye-catching colors. Notably, in the title section (Credit) at the end of the film appeared a series of Vietnamese names responsible for the Digital Artists section. Project manager VFX (abbreviation: Visual Effects – visual effects) and Data Wrangler (data writer) are also Vietnamese.
This information once again caused the online community to "wake up". Many people have expressed their admiration and pride at the talent and dedication of Vietnamese people to famous projects. In fact, even before "Squid Game" was released, the audience also repeatedly encountered the Vietnamese production team participating in other Korean hit movies, mainly on the visual stage like Penthouse, Sweet Home Legend of the Blue Sea, Parasite, etc. This makes many young people eager to find and study the 3D industry.
In fact, the attraction of the 3D Design and Animation industry has not only emerged recently, but many years ago, the position of this industry has been at the top of the rankings of industries that bring the highest income for young people. And like many other professions, the foreign market is always the desired destination of 3D Animation Artists to be able to assert their name and talent for further steps.
So what is it about this industry that makes people "leap" to each other to learn so much? Let's find out with VTC Academy right away!
The "fever" named 3D Design and Animation – The industry of the digital age
With each passing day, the prospect of 3D Design & Animation is increasing. Basically, all jobs are heavily dependent on technology and there is no denying that technological advancements are already a part of our modern world.
Another fact is that the industry is not limited to any particular sector. It is used in all areas from feature films, animation, advertising to services and education. With the rapid development and diversification of industries, the demand for human resources is also increasing. Due to the vast career expansion of the field of 3D Design, the number of courses in this industry in the world is also increasing at a rapid rate.
In 3D Design, 3D Rendering and 3D Animation are the two key sub-disciplines. With the rapid pace of technological change, 3D titles such as Avenger, Avatar or Toy Story also capture more "spotlights" in the mind of the audience than conventional 2D titles. Characterized by computer graphics software, 3D Rendering and Animation produces extremely vivid images. 3D graphics can also reproduce real-life objects such as buildings, machines, characters, etc.
Through specialized graphics software such as 3Ds Max or Maya, 3D Artist (3D Artist) can create three-dimensional character models and create movements with depth, nuances, emotions, and expressions just like real people. This allows 3D Artists to unleash their creativity, promote their imagination and create surreal, attractive cartoon characters.
That's why 3D Rendering and 3D Animation are becoming the most popular creative professions nowadays.
Of course it is not easy to be a part of this huge industry. To be able to participate in international film projects, we need to be prepared with the right learning and career development path right from the start. If you feel ready to conquer and explore this exciting profession, let's take a look at a few milestones with VTC Academy on the road to becoming a professional 3D Artist right now!
Why is VTC Academy an ideal destination for 3D Animation students in Vietnam?
For a 3D animator, mastering design tools such as Adobe Illustrator (Ai), Adobe Photoshop (Ps), Adobe Lightroom (Lr)… is extremely important. Besides, the spirit of self-criticism with all our products, constantly learning and updating new trends to get more creative inspiration as well as catch up with the needs and tastes of the market is also a requirement demand.
Therefore, it can be said that the milestone of equipping knowledge and strengthening passion is an important stepping stone to be able to develop firmly in the 3D Animation and Rendering industry in particular and other professions in general.
Equipping the above-mentioned platforms at the leading 3D design training schools with a modern learning environment VTC Academy is the best way for you to start your journey to pursue your passion. At VTC Academy, you will learn methodically about the process of creating a 3D design product and how to perform each stage from rendering, to creating expressions, to motion, etc. necessary expertise in addition to hands-on activities.
See more articles: Career trends in 2021 – 2022 (vtc.edu.vn)
VTC Academy students are not only fully equipped with specialized knowledge and skills in 3D Animation, but also cultivate all necessary soft skills and foreign language skills for their future careers.
In addition, school also supports students to introduce internships at leading corporations and enterprises, in order to help them improve their capacity, collide with reality more to gain experience. after graduation. VTC Academy is a reputable partner that provides high-quality personnel for major studios such as: Sparx, Gameloft, Glass Egg, Bombus, Bad Clay Studio… Students of VTC Academy while at school have met the requirements. demanding business requirements. Moreover, a few VTC Academy alumni also made their mark in many great movies and games in the world such as We Are Heroes, Hungry Dragon, Vader Immortal, Ready Player One, Call of Duty: Black Ops…
Since April 2021, VTC Academy officially signed an educational cooperation agreement with RUBIKA International Design Institute – TOP 2 school in the world to train 3D Animation (according to Animation Career Review), Accordingly, VTC students Academy after graduation can choose to study abroad transfer program at RUBIKA (students choose to study in France or Canada). From here, the opportunity to step into international film studios and studios such as Disney – Pixar, DreamWorks, Ubisoft, Activision, etc. will gradually become a reality for you.
See more articles: Industrial Revolution 4.0 – A springboard to promote the development of the following top 3 industries (vtc.edu.vn)
If you are looking to try your hand at this unlimited field of creativity, what are you waiting for! Now is the time to mark the turning points in the future! Let's accompany VTC Academy and conquer new challenges with 3D Rendering and Animation right now!
Rất tiếc vì trải nghiệm không tốt của bạn về bài viết này!
Bạn có thể cho chúng tôi biết bạn chưa hài lòng vì điều gì không?