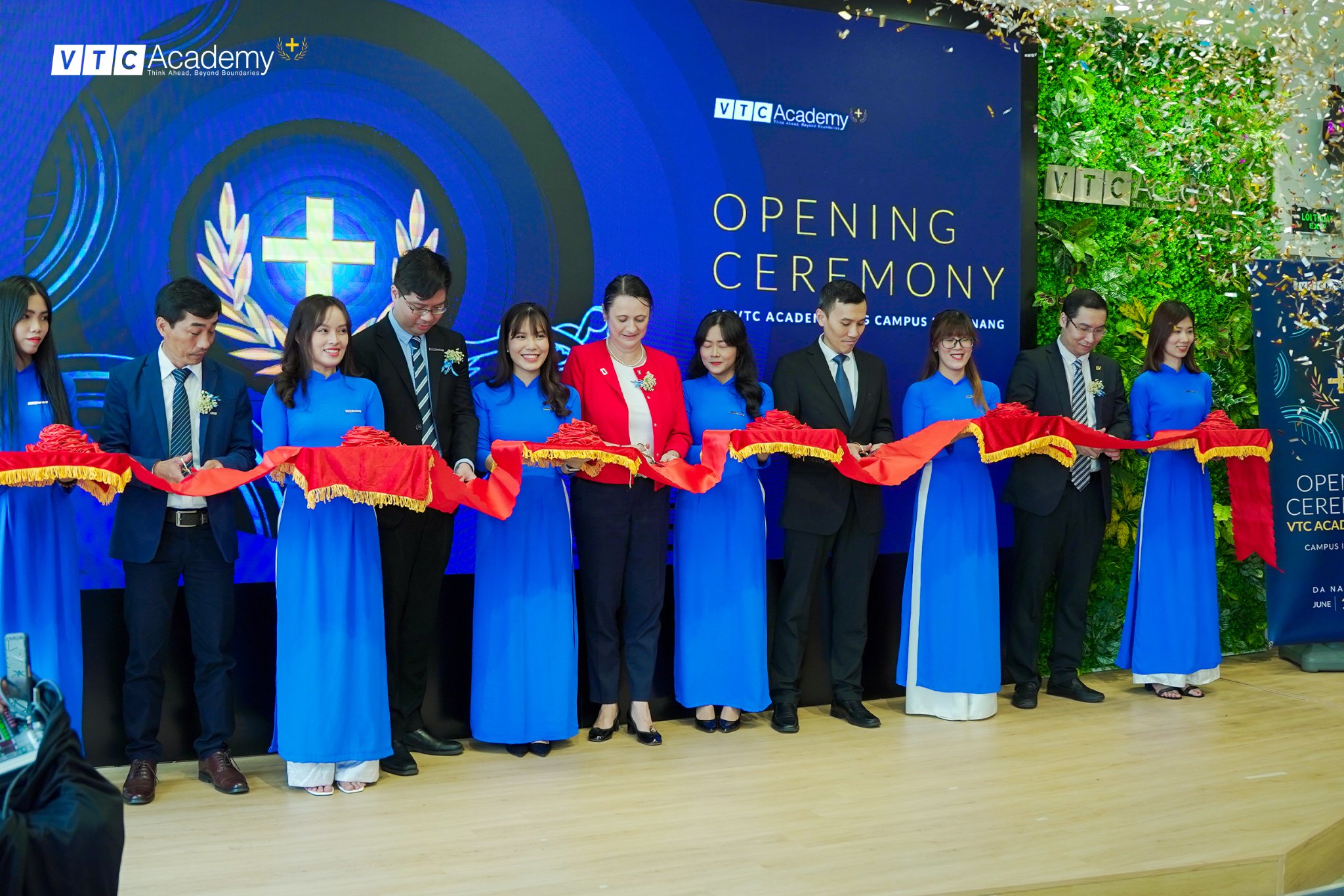 VTC Academy cooperates in recruitment with Ladipage, CoWell and BAP Software
Posted on 19/07/2022
The signing ceremony of cooperation between VTC Academy and enterprises LadiPage, Co-Well and BAP Software marked an agreement on training and supplying human resources in Digital Marketing, Design and Information Technology, ensuring student jobs after graduation.
During the opening ceremony of VTC Academy Plus Da Nang at 130 Dien Bien Phu, Chinh Gian ward, Thanh Khe District, Da Nang City on June 11, 2022, a recruitment cooperation signing ceremony between VTC Information Technology and Design Academy (VTC Academy) and LadiPage – a pioneering platform specializing in design and conversion optimization for online marketers and advertisers, Co-Well – a leading enterprise providing software development solutions for Japan and Japanese standard services for Vietnam, and BAP Software – a leader in blockchain and AI owns many international cooperation projects with Japan, Australia, Singapore…
Accordingly, after graduating from VTC Academy, Digital Marketing students will be fully equipped with the necessary skills according to global DMI standards to apply for any business and have the opportunity to work at LadiPage.
Mr. Nguyen Dac Tinh – Co-founder of LadiPage Vietnam, shared: "We all want to create a new generation that can change the world and I believe that VTC Academy can do that. I also hope this cooperation can help businesses find more talents in the future."
In the opening event, VTC Academy cooperates with two other well-known companies, Co-Well and BAP Software, to open up many career opportunities for students after graduation.
Mr. Nguyen Cao Cuong – CEO of Co-Well, expressed: "It can be said that information technology human resources in Da Nang are scarce today. The opening event of this new facility this time has great attraction for technology companies in Da Nang, including Co-Well. We are committed to accompanying VTC Academy to create a favorable internship environment and always ready to welcome VTC Academy students after graduation."
Mr. Truong Cong Phuc also said: "This event really marked a new turning point in the cooperation and development relationship between VTC Academy and BAP Software. A great thing about the current VTC Academy is trains a generation of professional graphic designers, artificial intelligence, and programmers. These are all suitable industries for BAP's recruitment and development needs in the future."
At the ceremony, Mr. Hoang Viet Tan shared: "Cooperating with strategic partners in each training industry is an opportunity for VTC Academy to closely link training and actual requirements from businesses. From there, we plan appropriate teaching, help students improve their standard working skills early and immediately join the company's human resources team."
In that spirit, VTC Academy is committed to implementing training to approach core competencies, focus on practice, organize field trips at enterprises, and prioritize job placement suitable for students of each major after graduation.
With more than 12 years of experience in training for about 10,000 high-quality IT and Design employees for the domestic and foreign labor market, VTC Academy Plus Da Nang promises to be the cradle of incubation and nurturing young talents that want to develop themselves comprehensively before applying at the top companies mentioned above or reaching out to the world.
VTC Information Technology and Design Academy (VTC Academy)
VTC ACADEMY PLUS HO CHI MINH CITY: 2nd Floor – The Emporium Tower, 184 Le Dai Hanh, Ward 15, District 11, Ho Chi Minh City – 0818 799 299
VTC ACADEMY PLUS HA NOI: 5th Floor – C Tower, Central Point Building, 219 Trung Kinh, Yen Hoa Ward, Cau Giay District, Hanoi – 0857 976 556
VTC ACADEMY HANOI: 4th Floor – VTC Online Building, 18 Tam Trinh, Minh Khai Ward, Hai Ba Trung District, Hanoi – 0981 114 757
VTC ACADEMY PLUS DA NANG
130 Dien Bien Phu Street, Chinh Gian Ward,Thanh Khe District, Da Nang City – 0865 098 399
Website: vtc.edu.vn – plus.vtc.edu.vn
Cre: Vietnamnet
Rất tiếc vì trải nghiệm không tốt của bạn về bài viết này!
Bạn có thể cho chúng tôi biết bạn chưa hài lòng vì điều gì không?