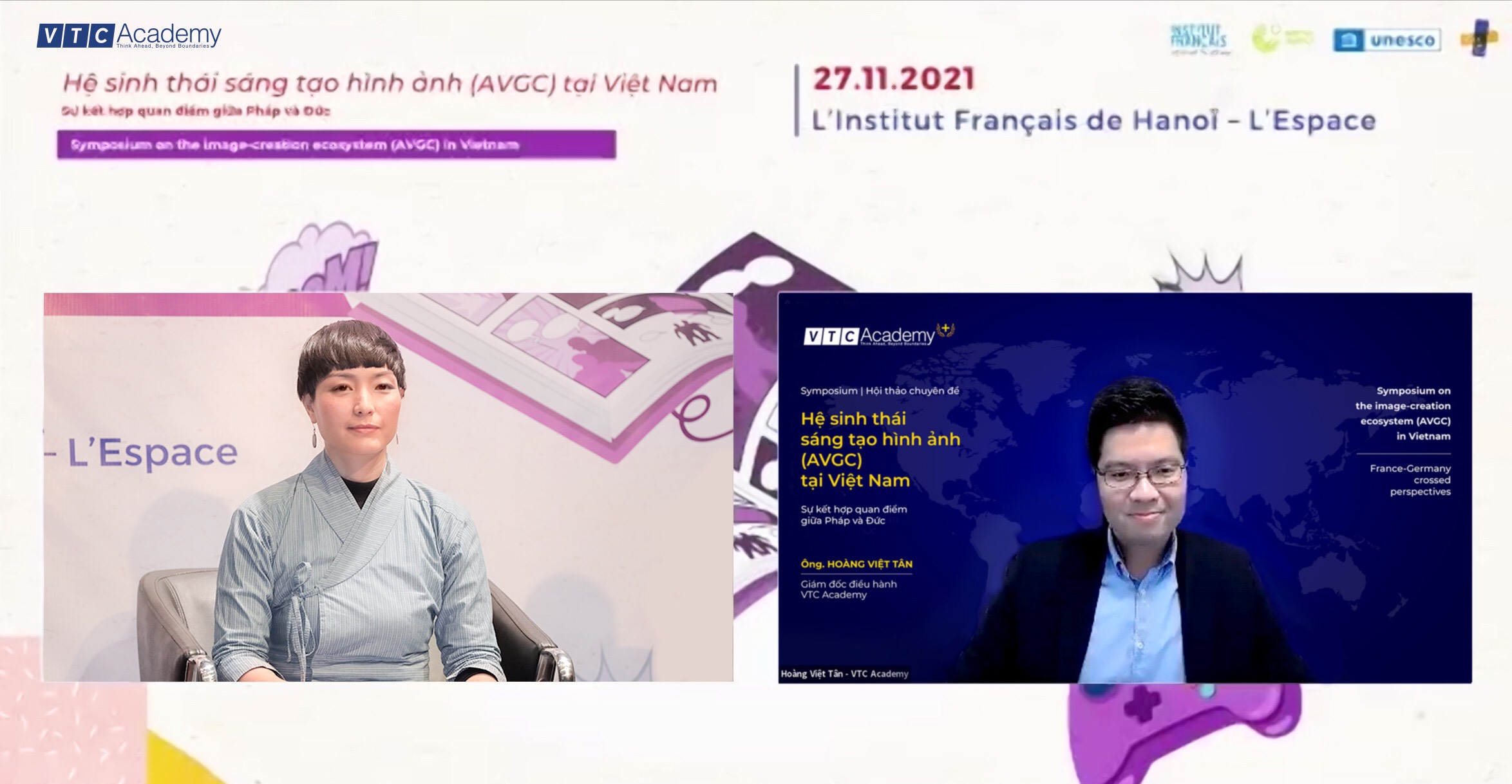 Development of high-quality human resources to build the image-creation ecosystem (AVGC) in Vietnam
Posted on 31/12/2021
In recent years, the image industry in Vietnam has gained considerable achievements, especially in terms of video games and comic books. 
The integration of creative industries into local development has risen to various new challenges in developing high-quality human resources in the Image-Creation industry.
Image-Creation Ecosystem in Vietnam – Full of potentials but lack of high-quality human resources
Vietnam is one of the largest gaming markets in Southeast Asia. During the last ten years, the rapid growth of the gaming industry in this market has offered high-skilled programmers and designers a wide range of career opportunities.
Despite positive signals of animation and the comic book industry in recent years, the domestic market has not had any remarkable product. According to Mr. Ha Huy Hoang – Art Director of Dee Dee Animation Studio, most of the domestic creative teams focus on producing and providing services for foreign projects, resulting in a shortage of Vietnamese animated films and comic books.
An impressive product requires specific success factors. Firstly, a good idea and script are required. A competent and professional production team is the second key. The last factor is the domestic team's constant improvements to reach international technical and technological standards.
Mr. Hoang Viet Tan, CEO of VTC Information Technology and Design Academy (VTC Academy) shared: "In spite of possessing great skills and innovative thinking, Vietnamese talents are facing the lack of an ideal learning and development environment in which they can grow and demonstrate their skills and capabilities, especially their creativity, operative ability, information technology application and language skills."
Offer full support for the domestic creative industry and ready for the Fourth Industrial Revolution.
Vietnam is a potential market for investors and startups in the image-creation. This industry was not expected to achieve as much in the last ten years. However, the development of an Image-Creation Ecosystem in Vietnam is a predictable trend now.
In order to create an integrated development environment for young talents to exchange, grow and challenge their limits, and to raise Vietnam's status globally, the French Institute in Vietnam (Institut Français du Vietnam – IFV), the Goethe Institute in Vietnam (Goethe-Institut Vietnam), UNESCO, and other international cultural and educational organizations have cooperated and developed an Image-Creation Ecosystem in Vietnam. This idea was presented in the Symposium: "Visual Creative Ecosystem (AVGC) in Vietnam" on November 27th, 2021.
According to Mr. Hannes Rall – Animation Professor at Nanyang Technological University (Singapore), those development experiences of the Image-Creation industry in Germany and France will be a great inspiration for building a creative ecosystem in Vietnam.
The idea of establishing this ecosystem is derived from the enthusiasm of leading domestic and foreign experts for a potential market as Vietnam. At the discussion panel, they also shared and analyzed both opportunities and challenges of the Vietnamese creative market.
Several most in-demand positions were mentioned such as Character Animator, Production Designer; Visual Effects Artist (VFX) for movies and games, etc.
To build a sustainable ecosystem, it is necessary to educate the public's perception of modern creative industries. This is also the core mission of educational organizations in Vietnam to build a healthy environment for young people who are passionate about cultures and art.
VTC Academy was the only Vietnamese educational organization participating in discussions with other international cultural and educational organizations to develop the Image-Creation Ecosystem in Vietnam. The mission of VTC Academy is developing domestic high-quality human resources to meet the demands of the Digital Economy by fully delivering academic and cultural values to the youth and supporting them improving, connecting with experts around the world.
VTC Academy enrolls students for the 2022-2023 school year in Programming, Design, and Digital Marketing majors.
Contact
VTC Academy Plus HCM: 2nd floor, Emporium Tower Building, 184 Le Dai Hanh, Ward 15, District 11, Ho Chi Minh City
VTC Academy Plus HaNoi: 5th Floor – C Tower, Central Point Building, 219 Trung Kinh, Yen Hoa Ward, Cau Giay District, Hanoi City
VTC Academy HaNoi: 4th Floor – VTC Online Building, 18 Tam Trinh, Minh Khai Ward, Hai Ba Trung District, Hanoi City
Website: vtc.edu.vn – plus.vtc.edu.vn
Rất tiếc vì trải nghiệm không tốt của bạn về bài viết này!
Bạn có thể cho chúng tôi biết bạn chưa hài lòng vì điều gì không?