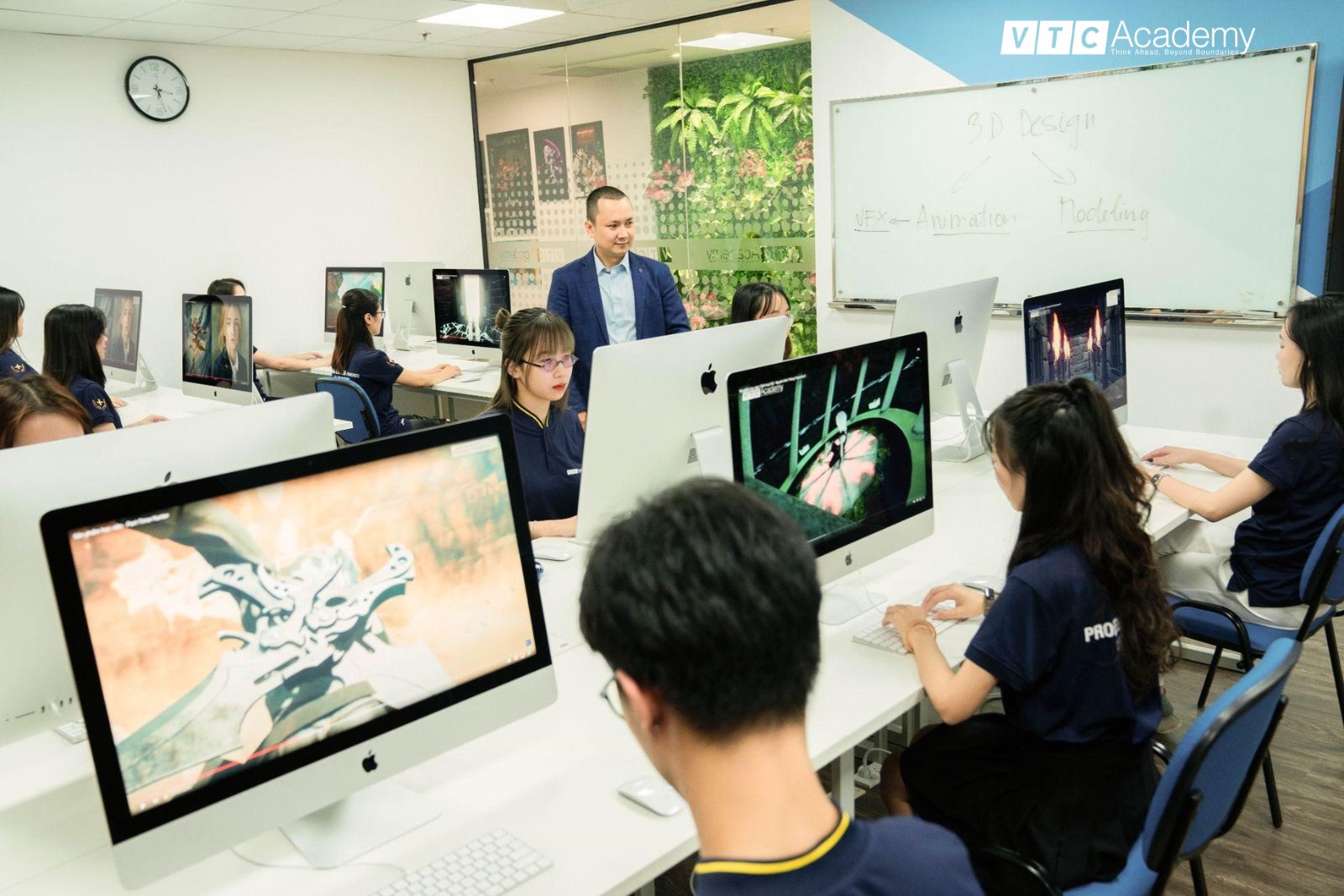 Review VTC Academy: Integrating technology into education to keep up with global education trends
Posted on 22/02/2023
Understanding the importance of digital transformation in education, VTC Information Technology and Design Academy (VTC Academy) has been continuously applying technological advancements to bring about significant changes.
Promoting digital transformation in education
Education is one of the prioritized fields for the Vietnamese government to promote digital transformation. To advance the development of the education sector in our country and make breakthrough progress, educators must change their thinking and renew their approach.
When the pandemic suddenly broke out in early 2020, digital transformation had to be urgently implemented, which resulted in solutions being focused on addressing immediate issues. However, sustainable digital transformation is still a long journey. The current challenges in the digital transformation of the education sector are infrastructure development, digital learning materials (e-books, e-libraries, etc.), and database management. To accelerate the digital transformation process, educators must focus on solving these issues.
VTC Academy transforms education management through digitalization
Recognizing the limitations of traditional teaching methods and aiming to provide younger generations with access to world-class education, VTC Academy has been tirelessly working to perfect its Hyper Learning system. This system combines three methods of learning – in-class, online, and e-learning with integrated artificial intelligence (AI) – to create a personalized, active, and flexible learning process.
Hyper Learning helps to individualize the learning process, allowing students to take more control over their study plans, methods, and timelines. To enhance this platform, VTC Academy has introduced an e-learning platform called Onlinica. The interesting feature of Onlinica is its integration of AI technology, which customizes learning for each individual and is readily available for learning anytime, anywhere. Based on data collected from user experiences, the AI algorithms of this platform suggest suitable courses for learners, helping to build unique knowledge journeys for each individual.
Not only does VTC Academy focus on building an intelligent learning ecosystem, but it also automates learners' competency profiles, which are updated from the academy's learning management system – S360. The ultimate goal is to establish a platform that can quickly and easily connect with employers on the recruitment portal – OnliCV, which will be launched in 2022.
To create a comprehensive digital education ecosystem, standardizing the IT infrastructure is currently the most necessary task to ensure smooth operation of the system.
VTC Academy partners with VNG Cloud to build a comprehensive digital education ecosystem
With the ambition of becoming a pioneering enterprise in building a comprehensive digital education ecosystem, VTC Academy is always careful in selecting reputable partners. And the partnership with VNG Cloud is a significant milestone, accompanying VTC Academy in realizing the intelligent education ecosystem.
Mr. Hoang Viet Tan stated that "VTC Academy highly values the desire to digitize all aspects of life at VNG, not only in the Cloud aspect but also in payment, entertainment, and community connection. This aligns with VTC Academy's strong commitment to digital transformation in education."
During the signing ceremony, Mr. Hoang Viet Tan, Director of VTC Academy, shared: "VTC Academy highly values the desire for digital transformation in all aspects of life at VNG, not only in the Cloud sector, but also in payment, entertainment, and community connectivity. This is very suitable for the strong digital transformation ambitions of VTC Academy in education."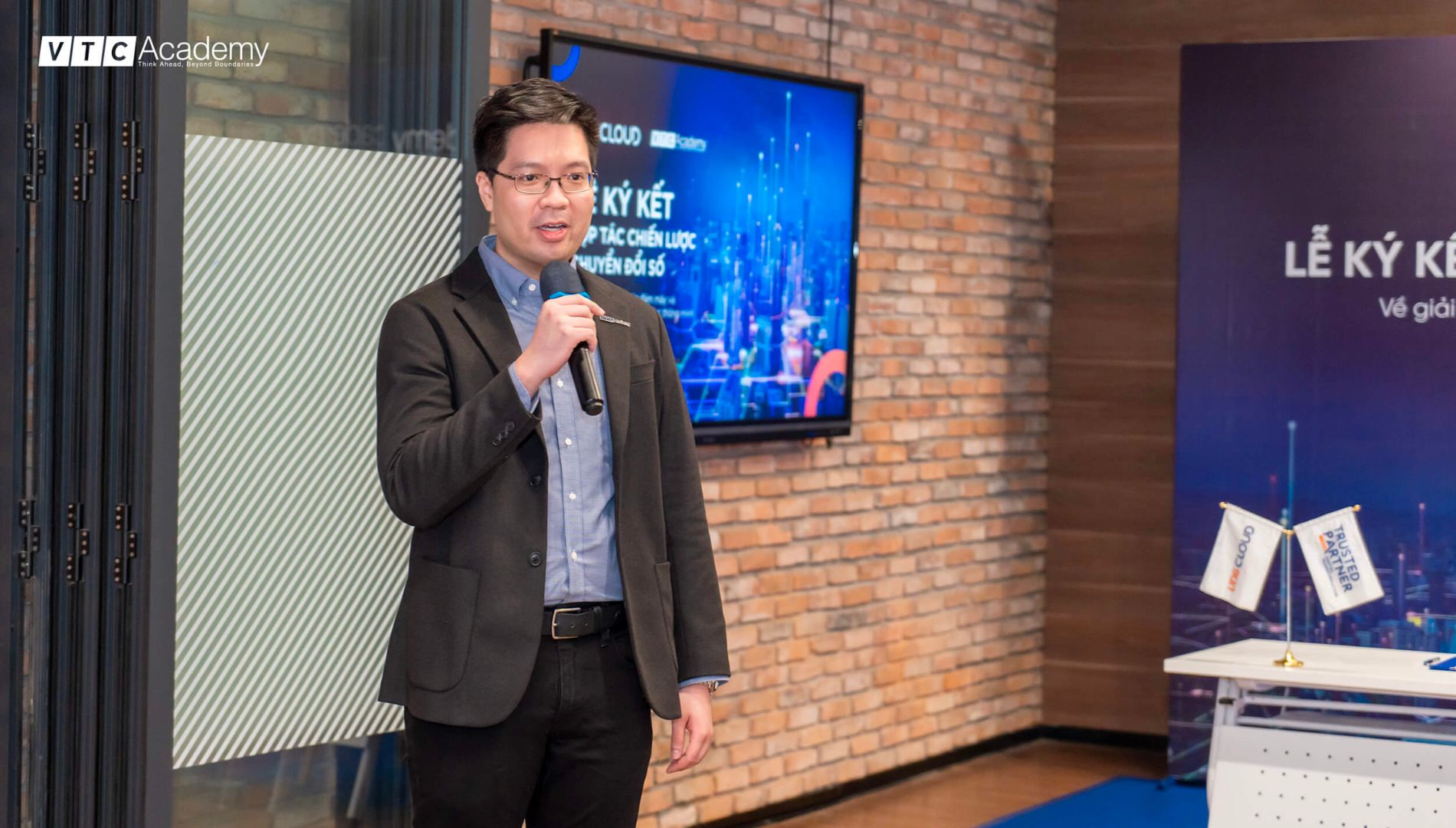 On the VNG Cloud side, Mr. Hoang Anh, CSMO of VNG Cloud, also shared: "We see VTC Academy as an important partner and always prioritize the success of this project. VNG Cloud is confident that we can meet the quality requirements for stable and reliable cloud computing services, as well as timely technical support that VTC Academy has set for this project."
In addition to the digital transformation partnership, VTC Academy is also a strategic partner of VNG Cloud in providing high-quality human resources in information technology, design, and digital marketing. This is a synergistic cooperation between VTC Academy and VNG Cloud, promising to create a great boost for the Vietnamese education industry in the future.
This cooperation will be a significant milestone in VTC Academy's digital transformation journey. In the near future, VTC Academy's comprehensive digital education ecosystem will take new breakthrough steps on the path to becoming a leading EdTech unit in technology.
VTC Information Technology and Design Academy (VTC Academy)
VTC Academy Hanoi: 18 Tam Trinh, Minh Khai Ward, Hai Ba Trung District, Hanoi – 0981 114 757
VTC Academy Plus Hanoi: 219 Trung Kinh, Yen Hoa Ward, Cau Giay District, Hanoi – 0857 976 556
VTC Academy Plus Da Nang: 130 Dien Bien Phu Street, Chinh Gian Ward,Thanh Khe District, Da Nang City – 0865 098 399
VTC Academy Plus Ho Chi Minh City: 184 Le Dai Hanh, Ward 15, District 11, Ho Chi Minh City – 0818 799 299
Rất tiếc vì trải nghiệm không tốt của bạn về bài viết này!
Bạn có thể cho chúng tôi biết bạn chưa hài lòng vì điều gì không?