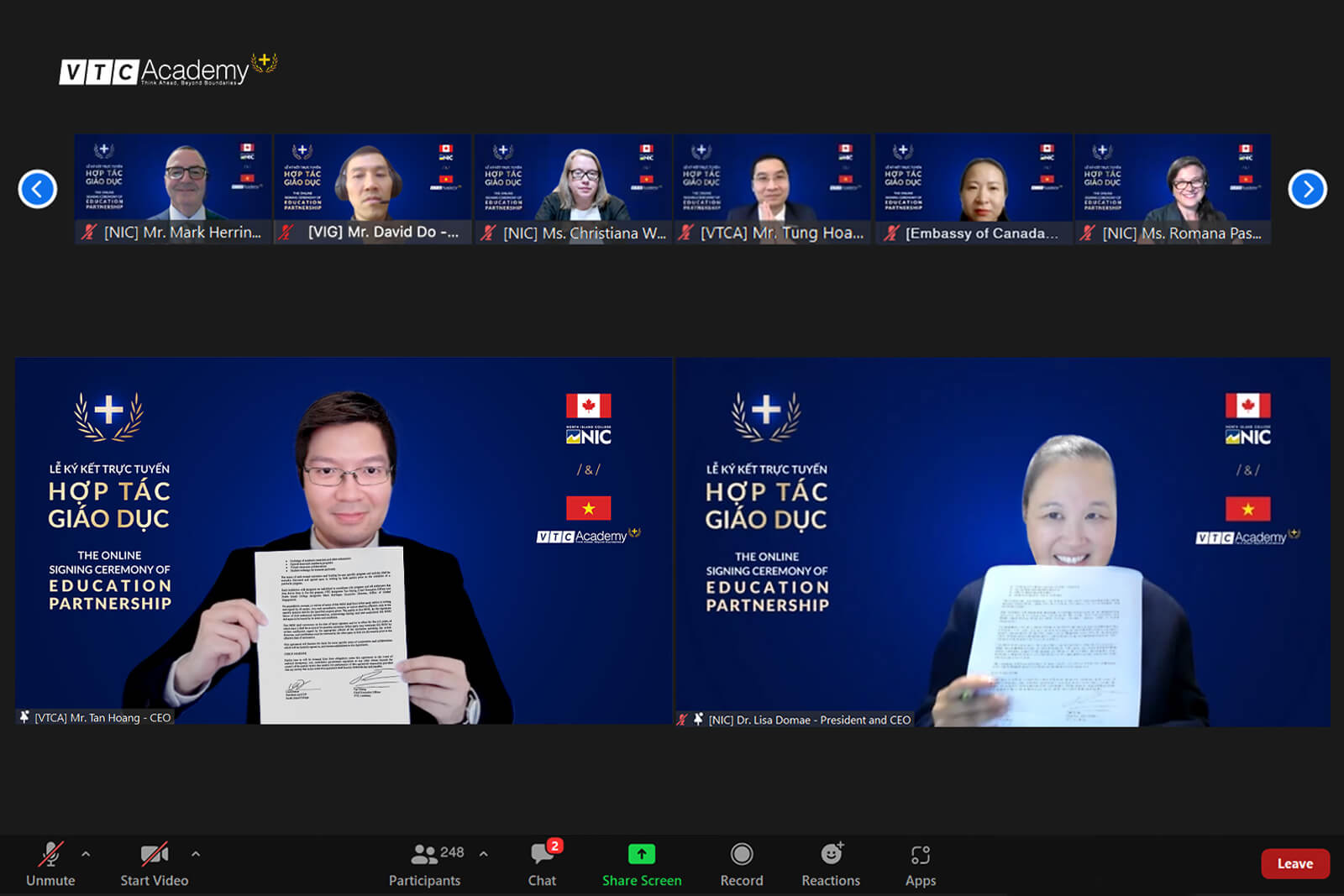 VTC Academy cooperates with North Island International College – Canada
Posted on 30/12/2021
VTC Academy and North Island International College (North Island College, NIC), Canada cooperate to develop a training program and accompany in many other project development activities.
The signing ceremony of educational cooperation on the implementation of the joint training program between the two units took place on August 22. The ceremony with the attendance of Ms. Nguyen Tam Anh – Commercial Counselor of the Embassy of Canada in Vietnam; Mr. David Do – CEO of Vietnam Investment Group (VIG); representatives of the Board of Directors of both sides and many business representatives.
With all the guests, Mr. Hoang Viet Tan – CEO of VTC Academy – signed the memorandum of understanding of cooperation with Dr. Lisa Domae – Principal of NIC. Thereby, the two sides committed to closely combining and maximizing the capacity of each party to accompany in training activities and project development in the field of Information Technology. At the same time, officially implementing the training route between VTC Academy and NIC.
See more articles: VTC Academy signed an educational cooperation agreement with the Global Digital Marketing Academy (DMI, Ireland)
Accordingly, students majoring in software engineering of VTC Academy Plus after graduation can choose to have transnational education for 1-2 years at NIC (Canada) depending on the program. Students after graduating from the Software Engineering program at NIC will receive a prestigious international degree from NIC and can confidently apply to businesses and corporations in the fields of Information Technology, Solutions,… in any country in the world.
Established in 1975, NIC is now one of the leading training units in Canada in particular and the Americas in general, with many diverse study programs and great strength in cooperation with top universities around the world.
Through decades of training, NIC is a prestigious destination and is chosen by IT students worldwide as an important goal, helping to ensure both the learning experience, the quality of teaching and the great outcome.
Speaking at the ceremony, Mr. Hoang Viet Tan – CEO of VTC Academy shared: "We believe that the cooperation relationship between the two sides will have good and sustainable development in the future. VTC Academy is very pleased to cooperate with NIC – the leading educational unit in Canada. We always strive and want to bring the best learning conditions, create conditions for comprehensive development for students, meet the global human resource needs."
Also attended at the event, a representative of VIG Investment Fund, Mr. David Do – CEO of VIG said: "I am very honored to be here today to announce the important cooperation between VTC Academy and NIC. I greatly appreciate the effort that both sides have to get to this point with the ongoing global challenges due to the pandemic and I believe that this will be a great example of the Vietnam – Canada relationship."
NIC will cooperate with VTC Academy to improve the quality of training for its students by providing and supporting an interdisciplinary training program in Software Engineering to meet the requirements of The 4th Industrial Revolution aims to bring Vietnam to a regional and international level.
In the enrollment time 2021, VTC Academy officially implemented the high-quality training program of international standard VTC Academy Plus and opened a new Academy in Cau Giay District, Hanoi.
Details of the high-quality training program VTC Academy Plus can be found here.
Some event photos
Rất tiếc vì trải nghiệm không tốt của bạn về bài viết này!
Bạn có thể cho chúng tôi biết bạn chưa hài lòng vì điều gì không?