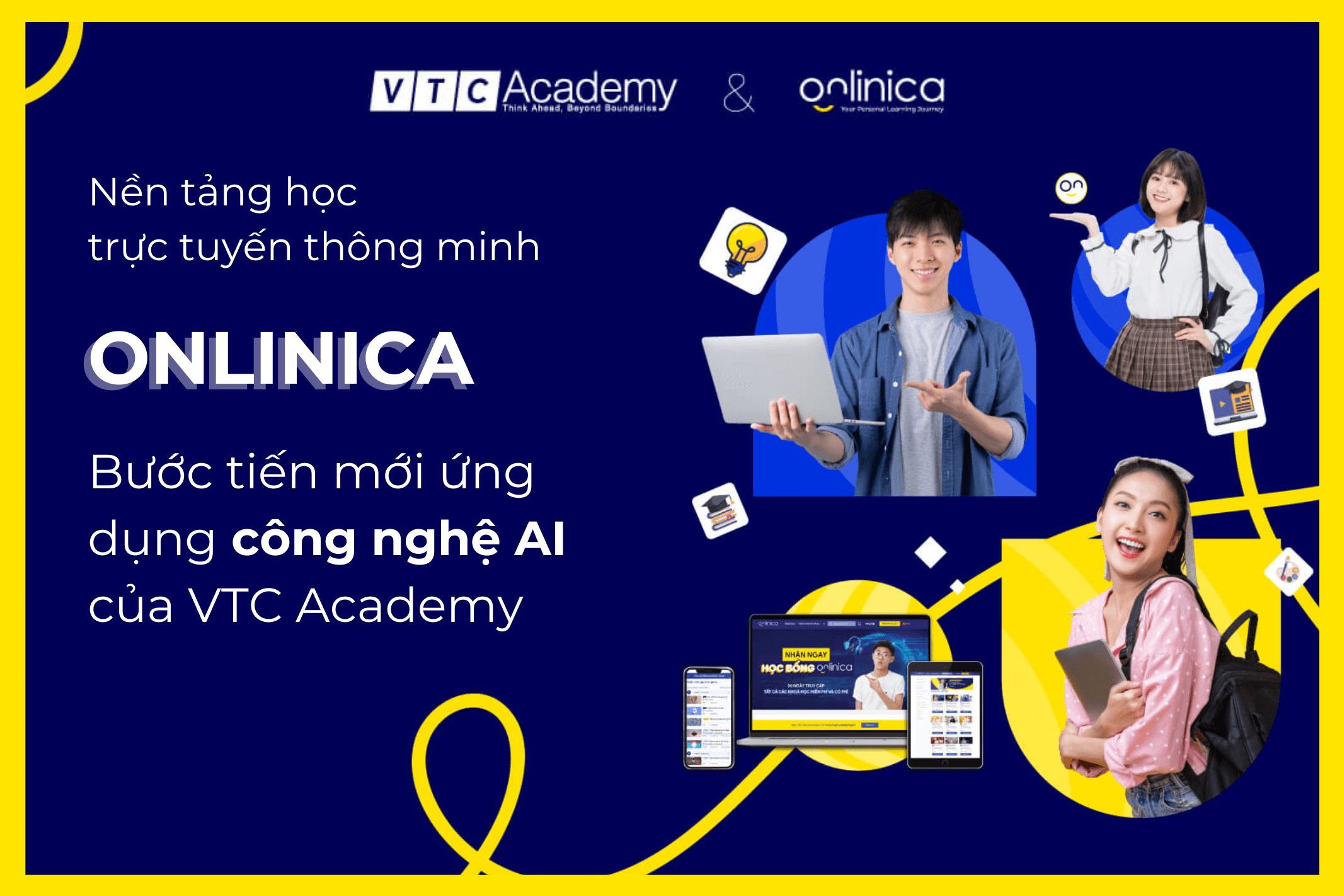 Onlinica – A new milestone of VTC Academy in the effort to build ecosystem applied modern AI technology
Posted on 05/09/2023
In August, VTC Information Technology and Design Academy (VTC Academy) officially introduced an e-learning platform infused with Artificial Intelligence (AI) technology, known as Onlinica.
Belonging to VTC Academy's digital education ecosystem, Onlinica not only inherits but also enhances the merits of leading global educational models. It is set to offer high-quality and focal course content, with the aim of becoming a nationwide online learning platform in Vietnam. Onlinica envisions becoming a gateway for collaborative course production in partnership with universities, colleges, and other educational institutions across the country.
Onlinica – Intelligent e-learning platform
Onlinica is an online learning and training platform that is trusted by 100+ global businesses with more than 300 practical e-Learning courses for all learners of VTC ACADEMY. Onlinica's courses focus on 5 popular industries including: Design, Information Technology, Artificial Intelligence, Digital Marketing and Personal Development.
Onlinica is shaped as an unlimited intelligent online learning platform allowing learners to access a plethora of courses regarding specialized knowledge and personal development. This approach not only facilitates holistic and effective self-improvement for 4.0-era employees, but also help them achieve enhanced success in their careers. This partly meets the demand for recruitment and high-quality training human resources of enterprises.
Applying AI Technology to Personalize the Learning Experience
On Onlinica, learners have the option to select from standardized Knowledge Journeys within each field crafted by Onlinica or explore AI-suggested journeys. Notably, learners can design their own personalized Knowledge Journeys based on their individual needs and learning capabilities. This way, they embark on a journey of self-discovery, experiencing content through various methods and adapting it to suit their preferences.
AI technology is applied for the lecture design process
To optimize the creation of high-quality lectures in volume, the Onlinica team has been developing an Artificial Intelligence (AI) system, including techniques like generating AI-powered virtual lecturers through face-swapping technology, converting text into speech in multiple languages, replicating anyone's voice, and creating virtual characters using prompt-based commands. Among these, the two most prevalent techniques used for teaching are:
Face-swapping technology: During lecture design, the AI virtual lecturer interface can be tailored to match the content more effectively, including customization of size (large, small), gender (male, female), or even accent (Northern, Central, Southern) to best suit the learners. Particularly, virtual lecturers can be created from an existing template combined with any face found online, resulting in a non-real lecturer.
Text-to-speech conversion: Learners can select their desired language or even learn multiple languages simultaneously, with a total of 6 languages available: Vietnamese, English, Japanese, Korean, Chinese, and French. Simultaneously, this technique aids in creating lectures diverse in language while preserving content and specialized nature.
With the aspiration to bring about an educational "leap" alongside over 12 years of experience in cultivating high-quality human resources at VTC Academy, Onlinica possesses the solid foundation and unwavering confidence to construct a comprehensive e-learning ecosystem. This endeavor not only benefits individual learners but also elevates the quality of personnel training for enterprises.
For detailed information, please visit the website: https://onlinica.com
Rất tiếc vì trải nghiệm không tốt của bạn về bài viết này!
Bạn có thể cho chúng tôi biết bạn chưa hài lòng vì điều gì không?