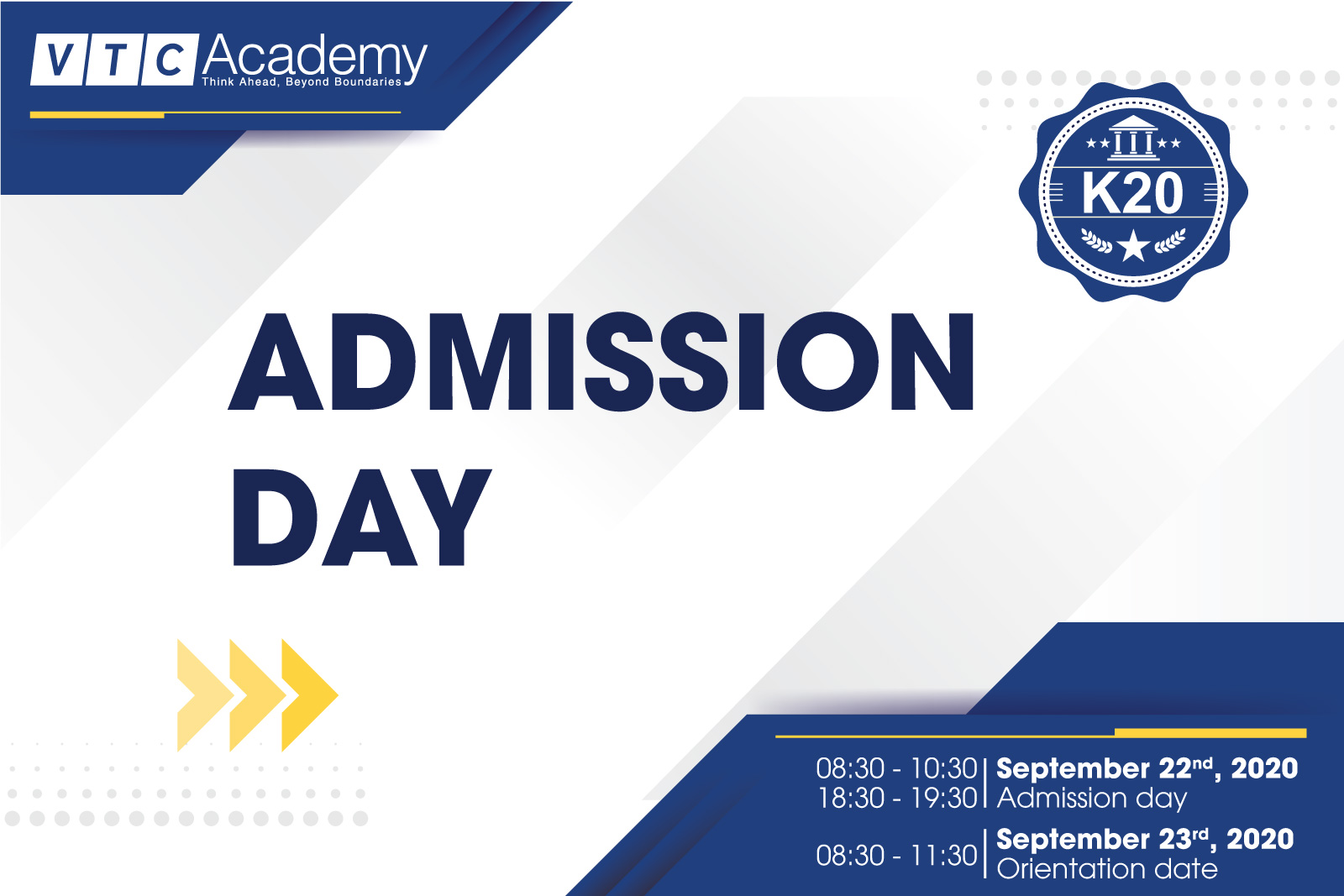 VIEW ALL EVENTS
Event "Admission Day 2020" in HCMC
Time: 08:00 - 12:00 Tuesday, Sep 22nd, 2020
About
The event "Admission Day: Welcome new students 20th Course" was held by VTC Academy in Ho Chi Minh City with the aim of welcoming all new students and helping them quickly get acquainted and mingle with friends, remove the feeling of being surprised on the first day of entering a new environment – which will be your "second home" in the next two school years.
Attendees
All new students of VTC Academy Ho Chi Minh City for the 2020 – 2022 school year.
Agenda
08:00 – 08:30: Check in
08:30 – 09:30: Hand out backpacks, uniforms, take photos of student cards
09:30 – 10:30: Attend the presentation on VTC Academy & studying regulations
10:30 – 11:30: Attend student clubs and soft skills training activities
11:30 – 12:00: Answer students' questions
Speakers & Guests
Mrs. Vu Thi Thuy Linh
Branch Director - VTC Academy HCMC
In the exciting atmosphere of the back-to-school season of the school year 2020 – 2021, on the morning of September 22nd, 2020, VTC Academy Ho Chi Minh City jubilantly held the Admission Day to welcome new students of the 20th Course of the Academy.
Right from the beginning of the morning, a large number of new students were present at the Academy to apply for admission procedures. Although you are a little shy when you first step into a professional lecture hall, all of you are full of excitement with the confidence and enthusiasm of youth.
In the joyful atmosphere of Admission Day, the new students of VTC Academy Hanoi received backpacks, uniforms and took pictures as student cards to mark a new journey: officially becoming students at VTC Academy, starting the path to pursue your passion.
At the admission day, the new students were also introduced to students' activities as well as issues related to the studying process at VTC Academy in detail and completeness.