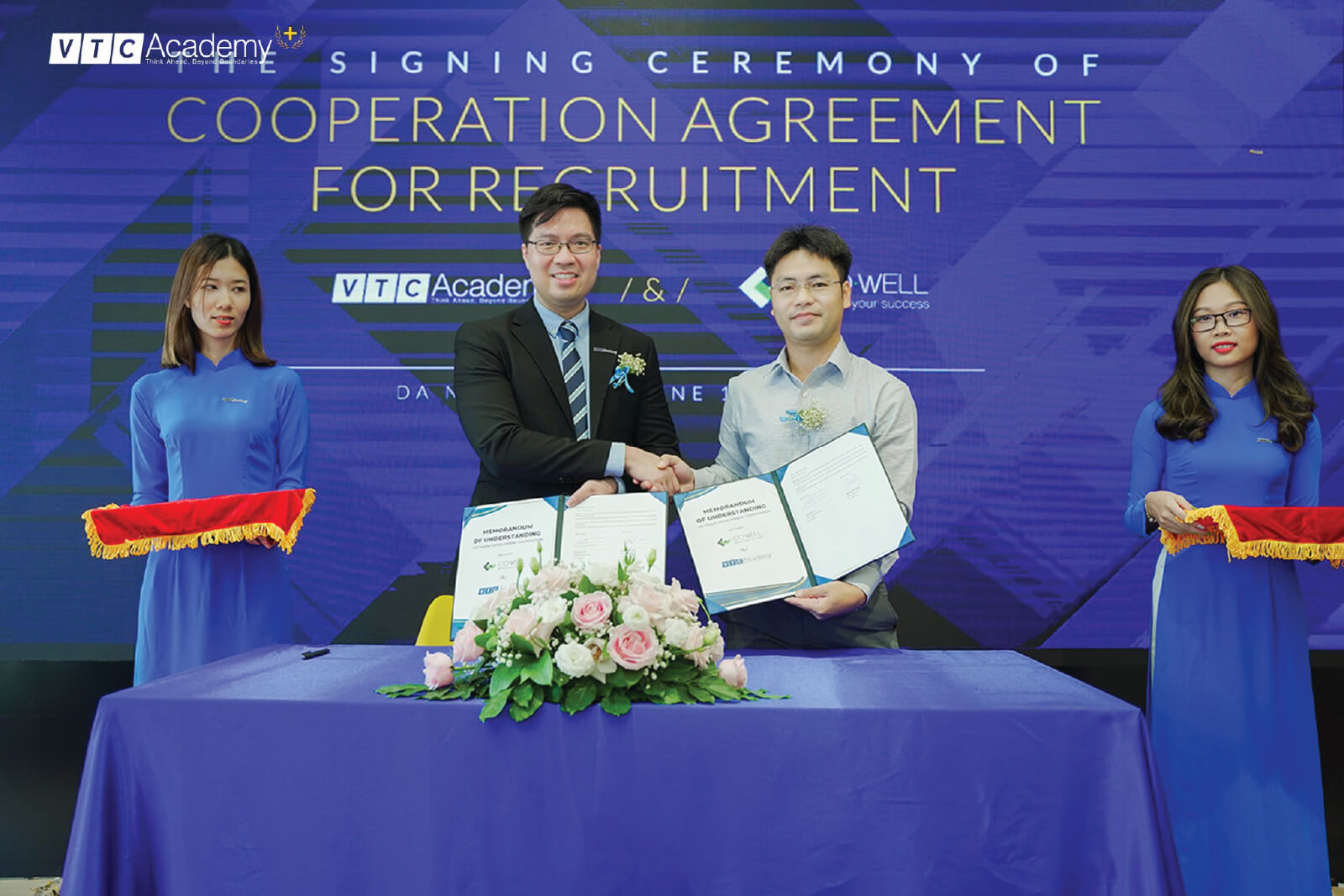 Review VTC Academy: VTC Academy signs a recruitment partnership with LadiPage Vietnam Technology Joint Stock Company.
Posted on 24/02/2023
On the morning of June 11, 2022, a successful signing ceremony for a recruitment partnership was held between the VTC Technology and Design Academy (VTC Academy) and Ladipage Vietnam Technology Joint Stock Company at the new VTC Academy Plus campus in Da Nang.
The event was attended by Mr. Hoang Viet Tan, Director of VTC Academy, Mr. Nguyen Dac Tinh, Co-founder of Ladipage Vietnam, as well as Ms. Emmanuelle Pavillon-Grosser, Consul General of France in Ho Chi Minh City, Mr. David Do, CEO of Vietnam Investments Group, Mr. Jeremy Segay, Audiovisual and Digital Content Sector Attaché at the French Institute, Mr. Samuel Delameziere, Director of the French Institute in Da Nang, Mr. Stephane Andre, Director of RUBIKA International Design Institute, Mr. Uchiyama Tsutomu, Business Director of VCC Vietnam, and representatives from over 100 reputable domestic and international businesses.
The ceremony marked an important milestone for the cooperation in recruitment and employment support between LadiPage Vietnam and VTC Academy's graduates. Accordingly, Digital Marketing students who graduate from VTC Academy will be equipped with the necessary skills according to the global DMI standards to meet the strict requirements of businesses and have the opportunity to work at LadiPage Vietnam.
Speaking at the event, Mr. Nguyen Dac Tinh – Co-founder of LadiPage Vietnam said: "The current technology world is developing strongly. The new universe – Metaverse, 3D training chapters, games,… are all factors of the future world. We all want to create a generation that can change the world, and I believe that VTC Academy will train the difference makers to help Vietnam reach out to the world. I hope this cooperation will help our business find talents that can help LadiPage Vietnam develop in the future."
Launched in 2017, LadiPage Vietnam Technology Joint Stock Company is currently a specialized provider of integrated technology design solutions for retail and e-commerce businesses.
The successful signing ceremony has laid a good foundation for both parties to develop together in the future. Through this collaboration, VTC Academy has provided students (especially those majoring in Digital Marketing) with more opportunities to study and work in a professional environment.
Through this signing, VTC Academy guarantees that 100% of its students will have a job immediately after graduation, especially those majoring in Digital Marketing.
Learn about the Full-stack Digital Marketing course at VTC Academy here.
Rất tiếc vì trải nghiệm không tốt của bạn về bài viết này!
Bạn có thể cho chúng tôi biết bạn chưa hài lòng vì điều gì không?