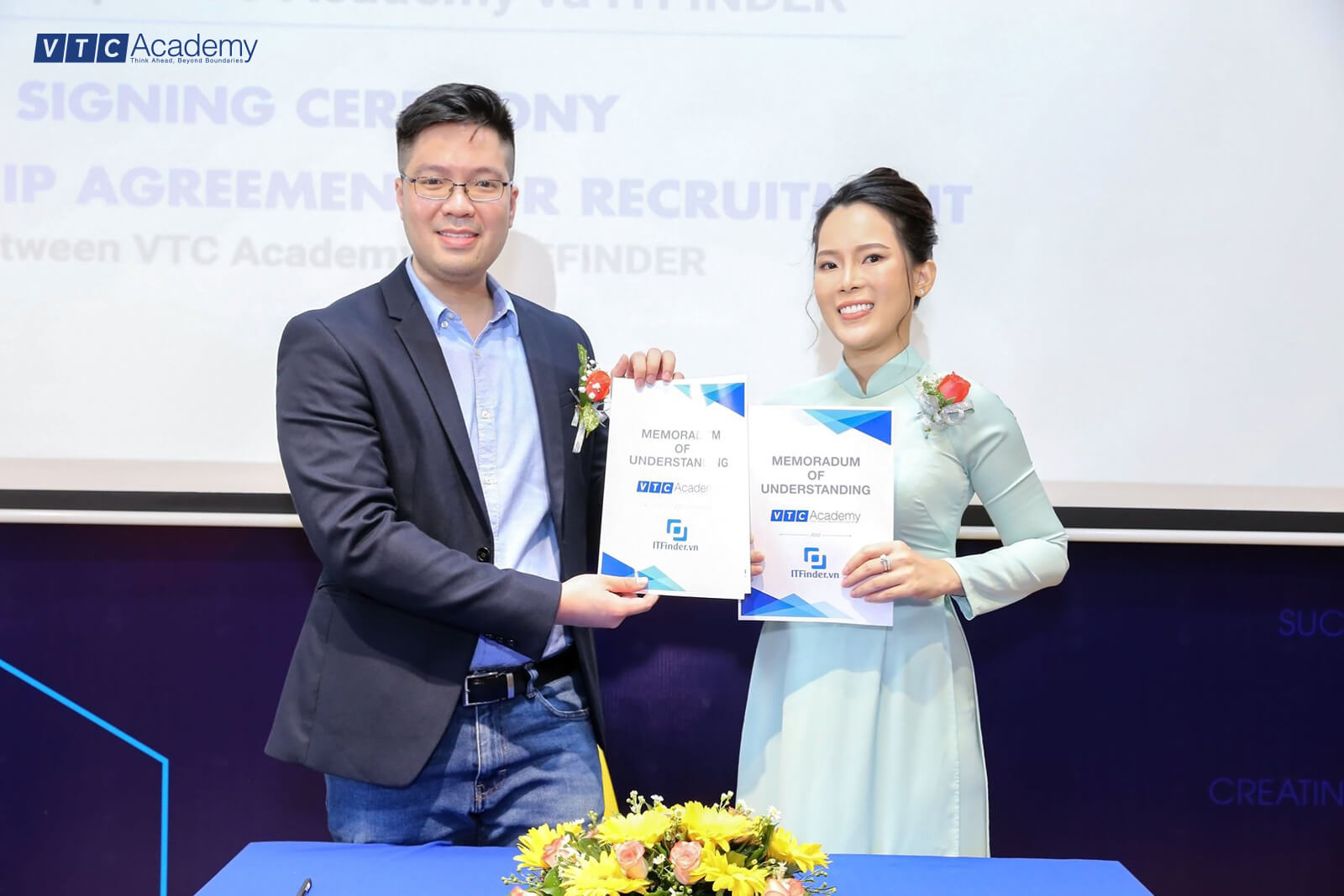 Many large enterprises continue to accompany VTC Academy in the new school year
Posted on 06/10/2020
On September 25th, 2020, VTC Academy held the Opening Ceremony for the 2020-2022 school year at two branches in Hanoi and Ho Chi Minh City. In particular, at the Opening Ceremony, representatives of VTC Academy' director board, Mr. Hoang Viet Tan – General Director of VTC Academy and Mr. Vu Tran Lam – Director of VTC Academy Hanoi Branch, together with the leaders of VTC Academy. Many large enterprises in the fields of Information Technology, Design, Recruitment ,… attended the signing ceremony of the VTC Academy student recruitment agreement after graduation, as well as accompanying VTC Academy in the past. Training program towards the mission of building a team of Vietnamese young talents (workers) in the fields of Programming and Design.
Specifically, in the field of Information Technology, VTC Academy has signed a cooperation agreement with OMN1 Solution – providing business solutions for domestic and foreign businesses, and also a strategic partner of famous and reputable software companies in the world such as Salesforce, SAP, Oracle; Savyu – one of e-commerce platforms on mobile devices with full development potential and promising a lot of dynamic and creative job opportunities for young people; Hamsa Technology – a leading e-commerce development company in Vietnam through modern technological equipment; Next Solution – a company specializing in mobile programming, consulting and providing mobile solutions.
In the field of Design, VTC Academy's partner and student recruitment support partner in the near future will have more notable names such as Taurus Global Studio – a unit specializing in 3D Game Modeling and Anime 2D Character Concept. , 2D Game Background, Animation – Spine; EL Effects Studio – a unit specializing in Animation Production, Movie Effects, Visual Led, Hologram, …
In addition, recruitment units specializing in information technology, which are famous in the recruitment market of Vietnam, also participated in this signing, such as TOPCV Vietnam – a unit focusing on product and service development for the human recruitment market in Vietnam through the application of technology, especially artificial intelligence (AI) in data analysis & evaluation; IT Finder – one of the leading recruitment sites in the field of IT recruitment and has more than a decade of strong development in Vietnam and many other countries in the region; JT1 – one of the reputable recruitment companies specializing in Information Technology HR and Software Engineer in Vietnam.
Along with the partners who have been accompanying VTC Academy, the respectful companionship of the aforementioned enterprises not only contributes to the reputation and efforts of VTC Academy, but also brings about valuable job opportunities for students of VTC Academy, at the same time, contribute to enhance practical experience and specialized knowledge as well as practical skills for students through practical activities such as sightseeing. working environment at the business; attend specialized seminars and workshops, receive in-depth consultation from leading experts of the business; …