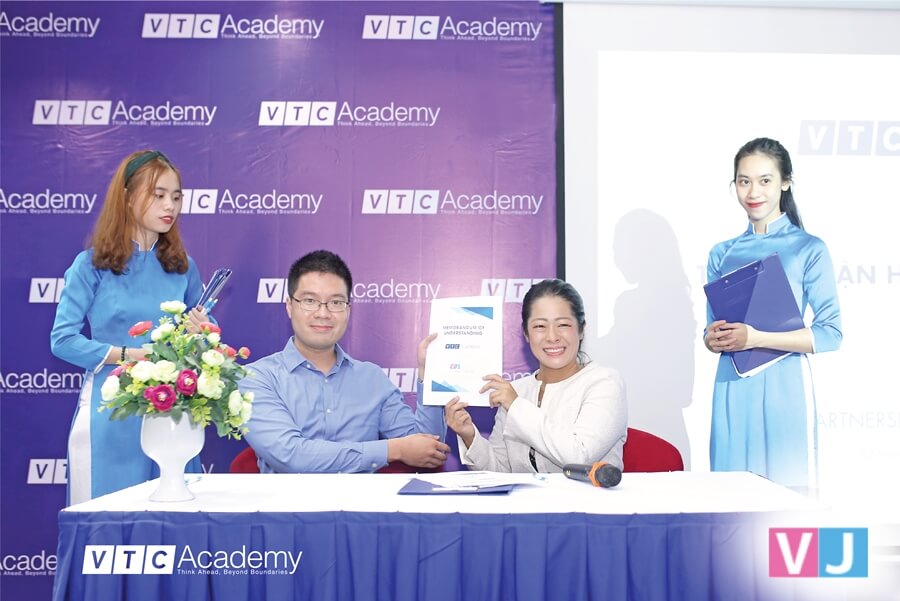 VTC Academy signed a cooperation agreement with large domestic and foreign enterprises
Posted on 31/05/2019
At the Open day event 2019 "Understand yourself – Choose the right industry" took place on May 19, 2019 at the VTC Academy, more than 150 students and parents witnessed the signing ceremony of cooperation agreements between VTC Academy and many large enterprises in many ways, especially to ensure 100% employment for students after graduation.
Attending the signing ceremony were representatives of VTC Academy: Mr. Hoang Viet Tan – General Director of VTC Academy and representatives of business partners:
Synova Solutions is a global IT software consulting and development company with a main office located in Ho Chi Minh City and 3 branches in France, Sweden and Denmark. The company has experience working with leading customers of the US, Europe and Asia Pacific with the aim of developing the IT industry in Vietnam, creating a proactive and creative working environment for young Vietnamese.
VJ Connection is a company specializing in providing business solutions for businesses in Vietnam market.
Gameloft is the world's leading mobile game production and distribution company. Gameloft currently has 28 studios located throughout the world, Vietnam having 4 studios in Ho Chi Minh City, Hanoi and Da Nang.
N&V Bridge Group is Japan's leading multidisciplinary group. Including more than 10 subsidiaries operating in many different areas: education, design, architecture, real estate, tourism, game graphics production for the Japanese market. With headquarters in Japan and representative offices in Ho Chi Minh City, Hanoi, Da Nang.
In the spirit of cooperation and development together, enterprises are committed to: Support VTC Academy to implement training, organize practical visits to the working environment at enterprises, organise seminars, share practical experiences and especially recruit students graduated from VTC Academy
VTC Academy is also committed to improving the quality of training with the method of learning coupled with training, training in line with actual needs, providing sustainable human resources, professional quality and practical skills to meet the demand of the companies.
Speaking at the ceremony, Mr. Hoang Viet Tan – representative of VTC Academy said: "Cooperation with businesses helps create more job opportunities for students at VTC Academy and help students have career direction as well as the necessary skills to work immediately after graduated and meet the strict work requirements from businesses. This is what we are always looking for and wanting to create for students."
Gameloft Vietnam representatives also shared: "VTC Academy and Gameloft have been cooperating for many years and there are some graduated students from VTC Academy working officially at Gameloft. Gameloft hopes that in the near future, many VTC Academy students will practice and work at Gameloft Vietnam ".
Regarding N&V Bridge Group, Ms. Nguyen Bich Ngoc also said: "Currently two of four 3D team leaders of N&V Bridge are also graduated from VTC Academy. But with the goal of becoming the leading company in Vietnam in the field of game and anime outsourcing in the Japanese and European American styles, N&V Bridge has a great demand for employees in the near future. And N&V Bridge is very happy to become a strategic partner of VTC Academy – which have quality training environment for students in 3D design major, We hope that in the coming time, we will have steps to develop cooperation, bring more job opportunities, useful and practical experiences for the students ".
Rất tiếc vì trải nghiệm không tốt của bạn về bài viết này!
Bạn có thể cho chúng tôi biết bạn chưa hài lòng vì điều gì không?