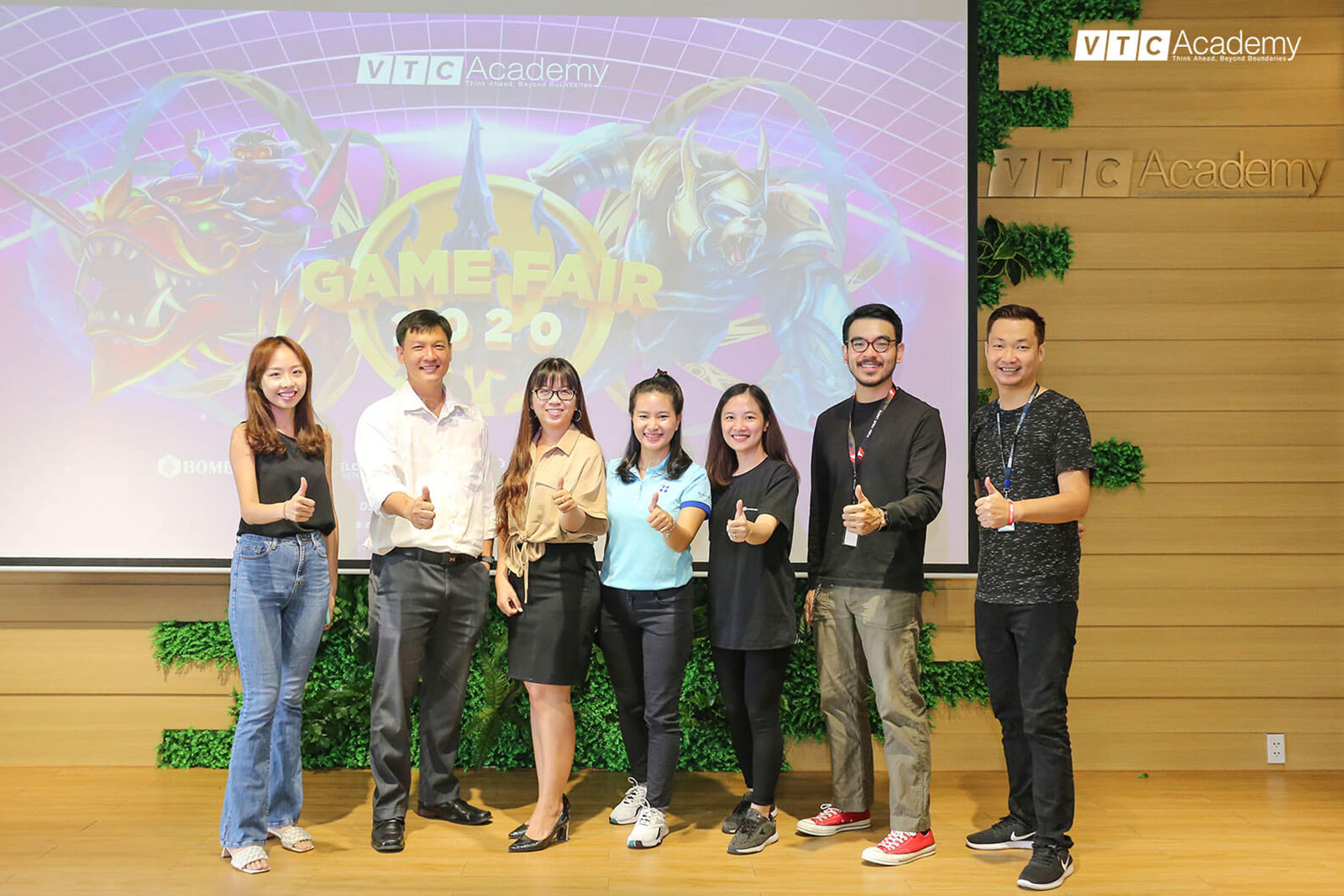 What do partner companies talk about VTC Academy and Game Fair 2020?
Posted on 13/11/2020
One of the most outstanding activities of VTC Academy in the latter half of 2020 is Game Fair – a blockbuster event for technology people in particular and game fans in general. With the participation of leading businesses in the field of game production and distribution such as: Gameloft, Sparx*, Glass Egg, Bombus, Amanotes and large technology units in Vietnam like Phong Vu. The event took place in the exciting atmosphere and brought satisfaction to all attendees as well as businesses who have accompanied VTC Academy at the event.
Let's listen to the sharing of businesses representatives attending Game Fair 2020 about VTC Academy and the event.
Ms. Do Le Nhu Quynh – Consultant at Sparx*
"VTC Academy and Sparx* have had an inseparable relationship ever, especially in the joint-activities recruiting students. In the future, if VTC Academy holds similar events, Sparx* will surely continue to accompany the Academy".
Ms. Tran Thi Thu Trang – Consultant at Gameloft
"Thank VTC Academy for inviting Gameloft to the exciting and professional Game Fair 2020 event. Gameloft received a lot of invitations during the busy season of this year's recruitment season. However, we always prioritize VTC Academy because students of VTC Academy are always appreciated at Gameloft for thinking and knowledge. Coming to the Game Fair today, Gameloft received enthusiastic, professional and thoughtful support of VTC Academy. Gameloft's Asphalt 9 was first introduced to young people on beautiful iMac screens. Once more, thank VTC Academy for accompanying Gameloft during that time".
Ms. Chau Nguyen – Business Development and Marketing Specialist at Glass Egg
"I feel very impressed when VCT Academy has created an interesting playground for game businesses and VTC Academy students. Meeting young people at Game Fair 2020 organized by VTC Academy, I was very surprised by their excitement and enthusiasm. Glass Egg will be very happy to continue to accompany VTC Academy in such events".
Ms. Le Thi Thanh Nhang – Specialist C&B at Bombus
"The reason Bombus joins the Game Fair today is to widely promote the Bombus brand, and at the same time introduce the games that Bombus designs to everyone. During the event, the Bombus area is always welcomed by many young people to visit. Currently, VTC Academy is a very "hot" Academy in Vietnam in training talent, so Bombus always prioritizes recruiting students of VTC Academy and is willing to cooperate in a long term with the Academy to jointly develop human resources in the field of 3D Design".
Mr. Nguyen Van Trung Kien – Product Manager at Amanotes
"Coming to the Game Fair 2020 organized by VCT Academy, I think this is a perfect event. Because as you know, the culture of the game has been spread for a long time but it was not really popular in Vietnam for a long time. VTC Academy's Game Fair 2020 event has helped spread a strong message: "Game is a part of life". With the slogan "Everyone can music", Amanotes is very excited to attend this Game Fair to spread the passion for games and music. In the future, if VTC Academy continues to organize events similar to Game Fair 2020, Amanotes will definitely participate to contribute to increase the spread of passion of game as well as game production to attendees".
Ms. Nguyen Vinh An – Head of CRM & PARTNERSHIP team at Phong Vu
"I feel that the atmosphere of Game Fair 2020 is very happy and the young attendees are very dynamic when they spend time experiencing all stalls. For participating businesses, I appreciate that all are professional, new and strongly attract visitors. Phong Vu is looking forward to joining VTC Academy in future events to bring more experiences and attractive promotions from Phong Vu to all of you".
Rất tiếc vì trải nghiệm không tốt của bạn về bài viết này!
Bạn có thể cho chúng tôi biết bạn chưa hài lòng vì điều gì không?