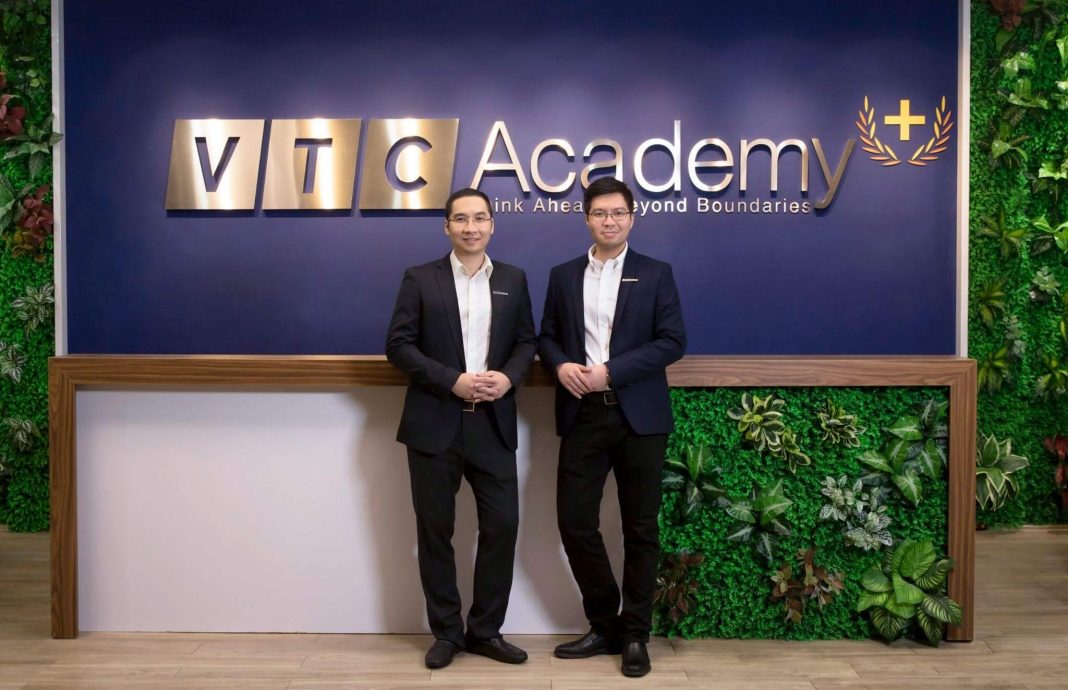 VTC Academy raises US$20 million to develop a comprehensive digital educational ecosystem
Ngày đăng 27/04/2022
VTC Academy has remarkably grown, made several outstanding achievements with flexible adaptability and creative solutions in business even though many industries, especially Services and Education, have been severely affected by Covid-19 for the last two years.
Credibility proven by bold moves amid uncertainties
For the last two years, the Covid-19 pandemic has exerted an adverse impact on most of the service and educational institutions in Vietnam, and several of them have even had to shut down or go bankrupt. VTC Academy, on the other hand, has proven its agility, adaptability, and capacity by consistently coming up with innovative solutions. Moreover, by successfully applying the blended learning method which flexibly combines offline, online, and e-learning instruction with succinct short and long academic programs appropriate for various student groups, VTC Academy has achieved steady revenue and constant enrollment growth of up to 200% over the previous three years. This achievement has raised VTC Academy's credibility within the Vietnam Investment Group (VIG).
Since 2018, VTC Academy has received an investment of US$3 million from VIG to establish three branches in the two most dynamic cities in Vietnam, Hanoi and Ho Chi Minh City, to build a high-quality professional team that develops various educational programs according to the strictest recruiting standards. Therefore, those professionals play a critical role in R&D and are one of the key pillars at VTC Academy. In addition, an extensive international education partner network has differentiated VTC Academy from other institutions in Vietnam, resulting in its superior academic standards and reputation. Furthermore, the Academy has equipped a range of modern learning facilities and resources for excellent support for all students.
So far, VTC Academy has trained more than 10,000 students with the student employment rate upon graduation up to 100%. Many of them are now working at leading giants in Programming, Software development, Game publishing, and E-commerce, such as: Sparx*, Viettel, VNG, Gameloft, Shopee, Tiki, and others.
This year, Danang is the next destination of providing international quality academic programs throughout Vietnam.
From vision to action in developing an international standard human force in Information Technology and Design
"VTC Academy's commitment is to deliver the high quality training program for young students throughout Vietnam. The cooperation with prestigious international organizations such as Rubika (World 2nd best International Animation School, France), North International College (Canada), and Digital Marketing Institute (United Kingdom) to create the opportunities for students to study abroad is an affirmation of the Academy's training standards. In the years to come, VTC Academy shall continue to leverage future sources of investment to expand new campuses and international educational partners network," said Mr. Hoang Viet Tan, CEO of VTC Academy.
The development of the comprehensive digital educational ecosystem
Mr. Hoang Viet Tung, Chairman at VTC Academy, said: "According to the 5-year business plan, with a targeted fund of US$20 million, VTC Academy will provide high-quality educational opportunities for students across the country by developing the digital academic ecosystem and expanding new branches."
This comprehensive educational ecosystem is a combination of Career Advisor, Hyper Learning and Data platform with AI technology which is designed to tackle challenges of the traditional education system and outstandingly beneficial to students, school, and investors.
Students will be provided with experts' lifelong career guidance that meet various lifestage studying needs such as finding a right career, seeking a high-paying job, increasing income, achieving career advancement,… through a counseling advisors network, recruitment connection operated by a real-time portfolio tracker system, skill enhancement roadmap recommendations based on a personalized core competency platform.
School will make the most of resources, operational cost and time with an AI-powered Hyper learning model which integrates three methods: classroom learning, online learning and e-learning (self-paced online learning).
Partner investors will have a clear picture of market demand, business performance and financial health through an integration data platform with AI-technology.
"Investment in Education has been at the core of VIG's mission since its establishment more than 15 years ago. By taking advantage of abundant labor supply, Vietnam has to develop innovative educational models to meet the demand for qualified and skilled professionals in the digital era. Since Education investment is treated as an investment in human development, it requires incorporating the investor's long-term vision and the educator's dedication and experience. The cooperation between VIG and VTC Academy is to promote a sustainable educational model that contributes to human resource development in IT, Design, and Digital Business Management in Vietnam," said Ms. Le Thi Khanh An, Education Investment Director at VIG.
The ecosystem built by the comprehension of traditional education disadvantages, market tensions and state of the art technology will be a solid foundation for a future sustainable education model, allowing VTC Academy to meet world standards and become an ideal Southeast Asian destination in the IT and Design sectors.
VTC Information Technology and Design Academy (VTC Academy)

VTC Academy Plus HCMC: 2nd Floor – The Emporium Tower, 184 Le Dai Hanh, Ward 15, District 11, Ho Chi Minh City – 0818 799 299

VTC Academy Plus Hanoi: 5th Floor – C Tower, Central Point Building, 219 Trung Kinh, Yen Hoa Ward, Cau Giay District, Hanoi – 0857 976 556

VTC Academy Hanoi: 4th Floor, VTC Online Building, 18 Tam Trinh, Minh Khai Ward, Hai Ba Trung District, Hanoi – 0981 114 757

VTC Academy Plus Danang: 130 Dien Bien Phu, Chinh Gian Ward, Thanh Khe District, Danang – 0865 098 399

Website: vtc.edu.vn – plus.vtc.edu.vn
Rất tiếc vì trải nghiệm không tốt của bạn về bài viết này!
Bạn có thể cho chúng tôi biết bạn chưa hài lòng vì điều gì không?